Creative hobbies
When it comes to creative hobbies, and I'm promoting my jewellery making classes, I don't just talk the talk. I also walk the walk. Or draw the draw. Or paint the paint. You get my drift? So most Wednesdays I toddle along to Sunny Bank Mills to Spinning Mill Life Class with the very talented Mel Davies and Kim Coley.
I don't mind telling you I was 'done in' when I got there this week. It's been a particularly crazy week or so, kids parties, work, mumming, trying to do it all (as per usual) and all the while really struggling with interrupted sleep and HAY FEVER which has landed firmly on my FACE. I could have easily NOT gone to drawing and stuck on my pjs instead. But I went.
I left feeling human. Still tired, but human. Calmer. Somehow rested, mentally if not physically. When I draw, I don't think about anything else. That's a rare thing for me. Having a time out is so important and I'm afraid a bubble bath doesn't cut it. My brain still whirrs away. Giving my brain someone else, something challenging to concentrate on, forces all other thoughts into submission.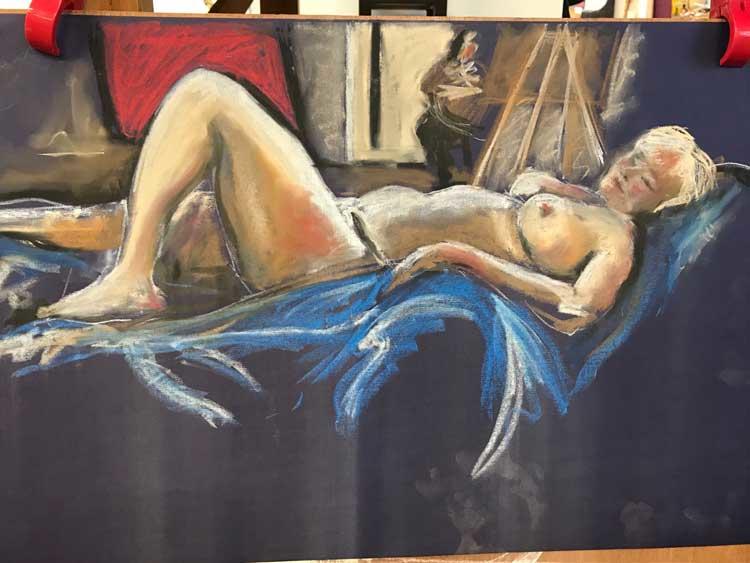 A little headspace
Having a creative outlet makes me feel whole and reminds me of me, just me, AND no one else's needs feature, just for 2 hours a week. It's THE BEST thing I do for myself and I'm a better mum, wife, business person and all round busy bee because of it.
Of course drawing has been a feature of my life for some time. I studied for a year on a drawing course between finishing school and starting my degree at Duncan of Jordanstone College of Art and Design in Dundee. Then I did the typical 4 year Scottish degree course, none of this 3 year malarky you take on in England! We need a whole extra year for the drinking! Joking, joking, I was sober the whole time....
Life as a jewellery designer
As a jewellery designer, working with handmade jewellery I often draw out designs for customers. I also draw out my own designs and doodle for students too. I'm as comfortable with drawing as I am with words, and I clearly have no shortage of those!
However, when faced with a model, everything quietens. A human figure is, for me, the singularly most challenging thing to draw. We are all very familiar with the human body and we can instinctively spot when the dimensions are wrong. Alongside a desire for the drawing to be 'right' is also a need for an expressive quality. A translation of the image not just a replication of it. I like my paintings to look like paintings, not photographs. I also have, as I do with jewellery making, a love of process, the actual doing of it. The materials, the way the paint sticks to the paper or the pen scrapes over the page. There's nothing about it that I don't find challenging or that I don't love.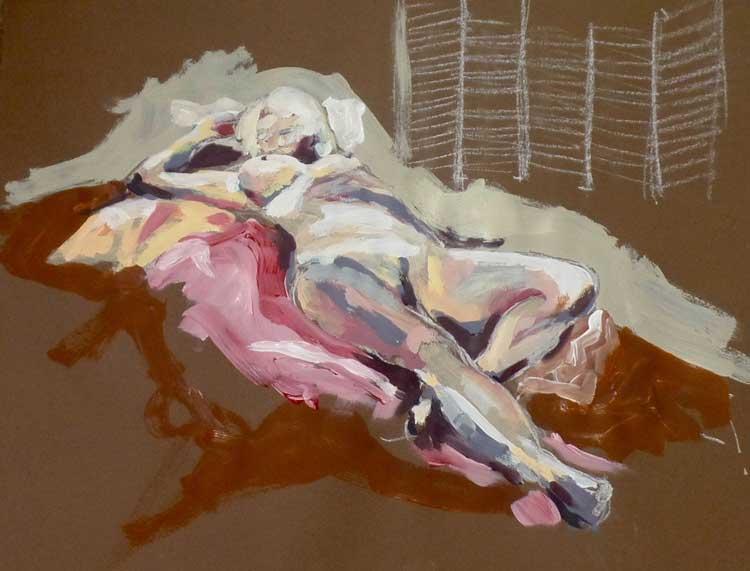 Mindfulness - focus on right now
It's not dissimilar to when I make jewellery. Working with my hands is something I find utterly absorbing. There is no other choice than to focus and for someone with a really busy head and a busy life that absorption in one task is an absolute joy. It's mindfulness in a way, plus there's beautiful jewellery at the end of the session so what's not to love?
Time out. Something different. Something challenging. Something creative. Something fun. That's what I need from my hobbies, and also from my making time. Brain space! Me space. Not a bubble bath in sight space. Where do you find your space?