The pressure of the perfect present
Valentines is coming and you know you need to buy your other half the perfect romantic gift. You might have a new love in your life or have been together for 30 years, but whatever the circumstance everyone likes to get it right when you are treating the person that you love to something special. So, what do you buy?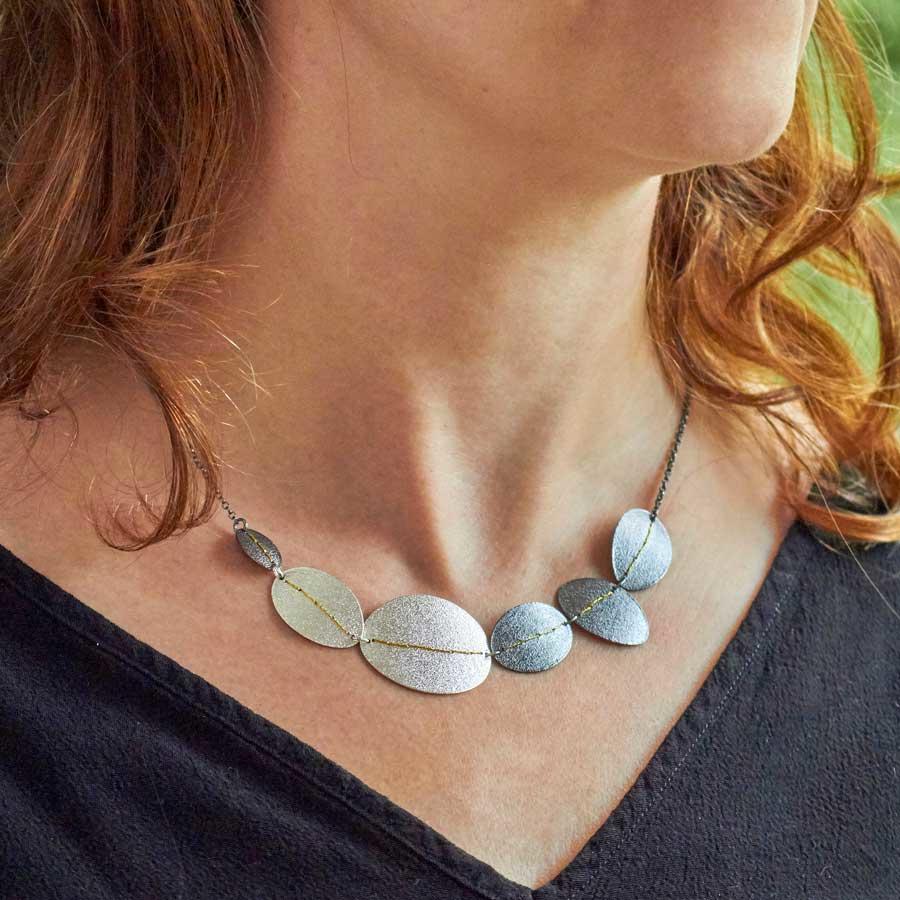 Oxidised (Black) and (White) Silver Assorted Disc Necklace sewn with Gold thread by Sara Bukumunhe
Jewellery is often the first choice for a special gift. It's personal, beautiful, thoughtful. When you buy the perfect piece of jewellery, you know it. You see the sparkle in her eyes first and then the smile arrives. She might put it on straight away or carefully take it from the box and look it over, but you know when you've bought the best jewellery gift for Valentine's and it's a great feeling.
As a jeweller and a massive jewellery fan, who loves being given jewellery almost as much as making it, I think I am a good person to advise you on buying the perfect Valentine's gift. So here's my 5 point plan!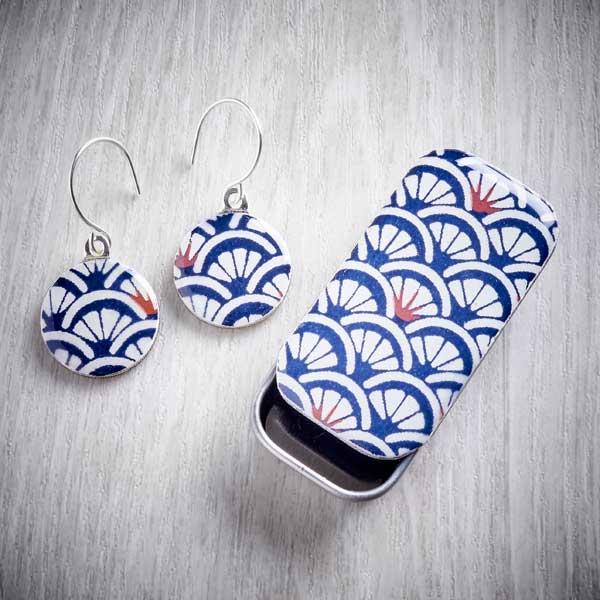 Arches Sixpence Earrings and Tiny Tin by Leigh Shepherd


1. Notice her clothes
Take notice of what she wears, not just her jewellery, also her clothes. Is she traditional, classic or modern? Does she like bold colours? Geometric lines? Floral patterns? What jewellery would work with her outfits? You could even choose something to go with a favourite outfit of hers, or a necklace, earrings or bracelet to match an dress for a special occasion, or a brooch to wear on a favourite scarf or coat.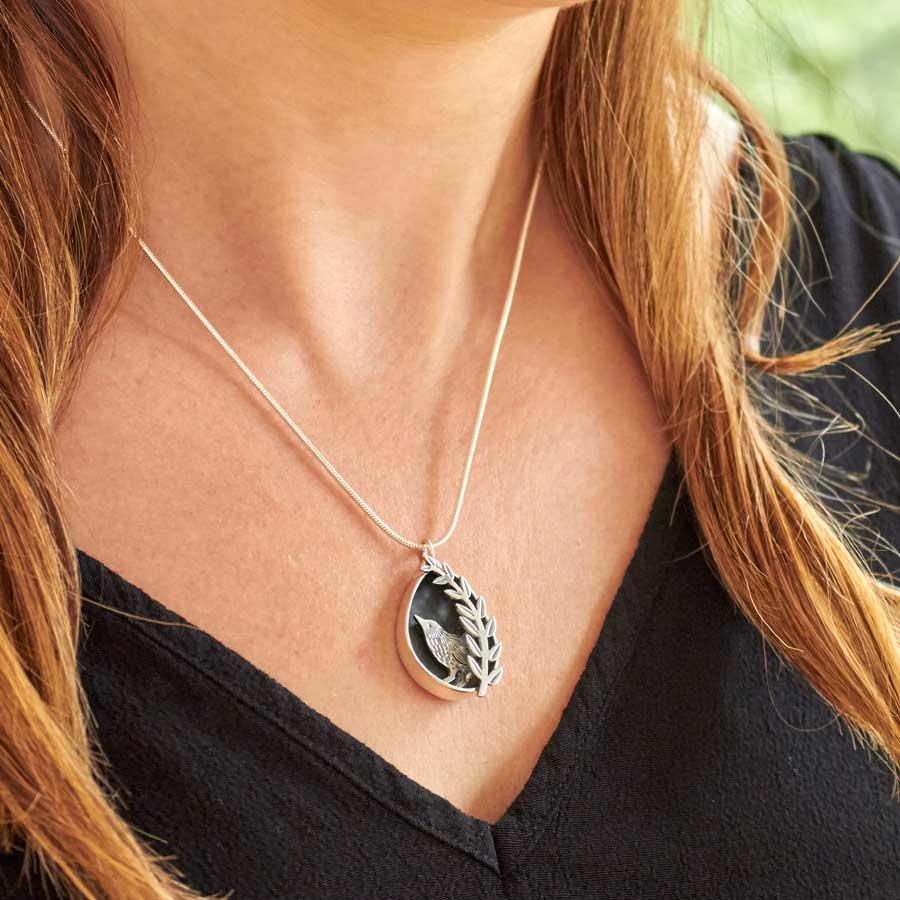 Silver Wren and Leaves Box Pendant by Helen Shere


2. Look at her accessories
Is her jewellery small and dainty or big and bold? What sort of necklines does she like to wear? Is her watch white or gold metal? Does she have her ears pierced?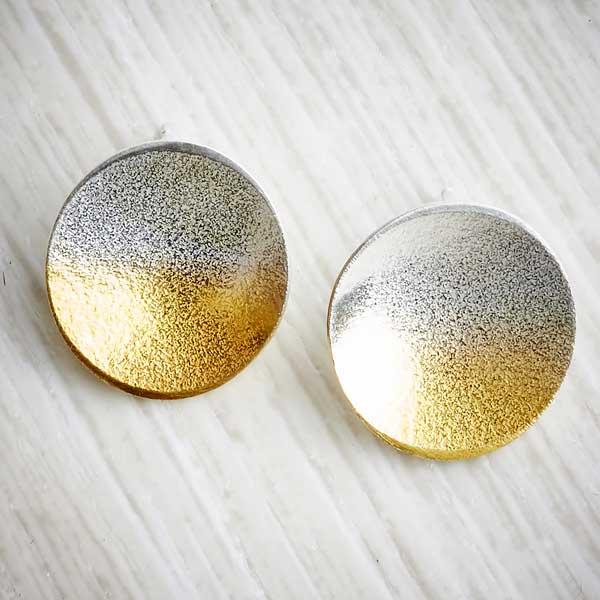 Silver and Gold Electra Large Stud Earrings by Melanie Ankers
There are two schools of thought here. You could go with the styles you already know she loves, you know it will be well received, and perhaps if you are nervous then this is the right choice for you (and her). She wears small and dainty flowery fabrics and pretty jewellery? Go with a small silver heart necklace with a floral print - you know you are onto a winner!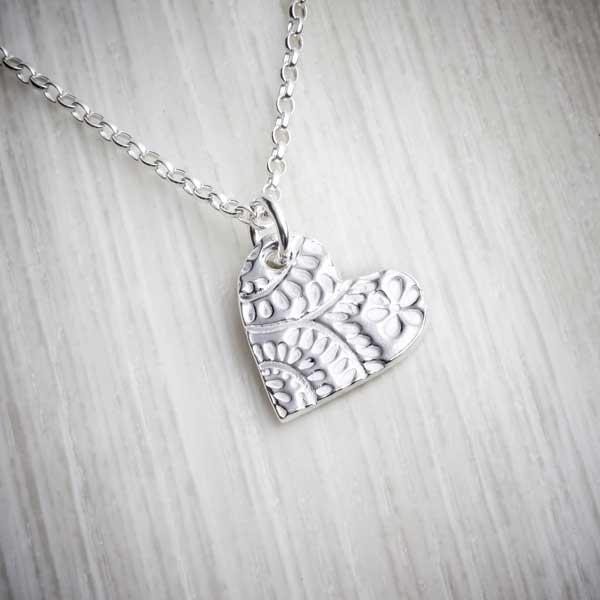 Silver Clay Small Floral Heart Necklace by Elin Mair
Alternatively you could take a bit of a risk here, for example, you know she likes a particular silver geometric necklace because she wears it so often, so could you find a pair of silver geometric earrings to compliment it? Or a silver geometric bangle? She loves a ring that someone gave her with an interesting texture on the band…what about a beautiful textured necklace that would work alongside it? You can be pretty sure she will like because it has something in common with the ring she already loves. Your attention to detail and thoughtfulness will gain you lots of brownie points - I promise!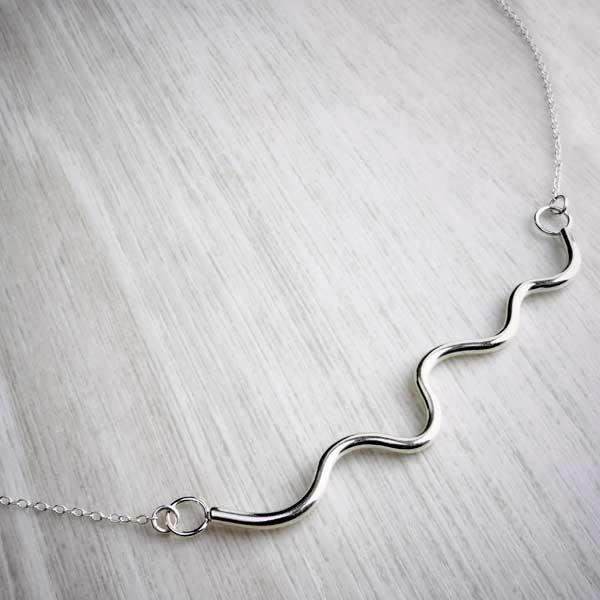 Chunky Wiggle Silver Necklace by Alice Chandler


3. Listen
Do you ever shop together? What does she look at? What does she touch? Do you watch TV together? If she comments on something, take notice! Take a sneaky picture or ask a sales assistant for the details on the sly! Or if you can't do those look carefully and make a few notes as soon as you can. Notice if the things she likes have anything in common, what is it? Are they all silver and gold mix? Or does she regularly look at dark oxidised jewellery or favour a lot of dark shades?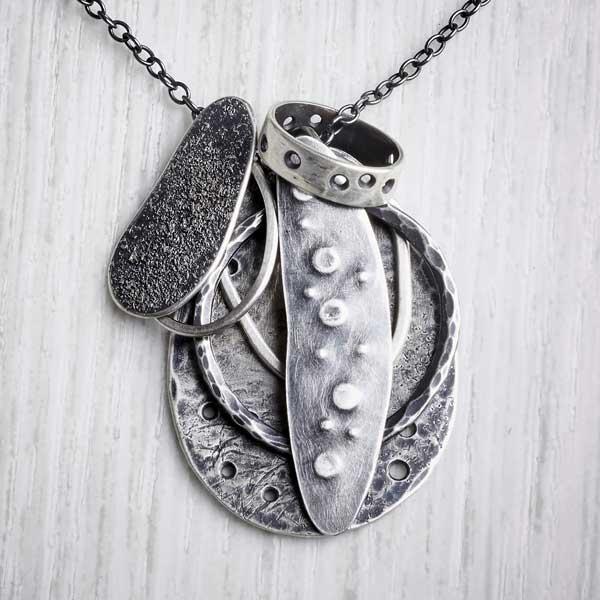 Recycled Silver Flotsam Pendant by Evie Milo


4. Check out the people who's look she admires
Does she follow anyone on social media because she likes their style? Are there any celebrities that she admires? Do they have a 'look' that you could use for inspiration, have a mooch about her instagram or facebook and pay attention to the famous people or fashionistas you find there.
5. Take some advise
Find a shop or a website that you like; a salesperson or a blog that you trust can save you lots of time, give you lots of good advice and help guide you towards the perfect present for your wife or girlfriend. Finding a website that your other half likes the look of is a huge bonus, well I would say that wouldn't I? However it is true, you will find an online jewellery shop, like a high street store has a house style or a common thread running through it's collections.If she likes one collection you find there, it is likely she will like some of the other collections they have, if you're not sure drop an email asking for a recommendation! Your sales person will know what pieces are popular and what jewellery works with an individuals style and preferences. Don't be afraid to ask! We are very happy to help.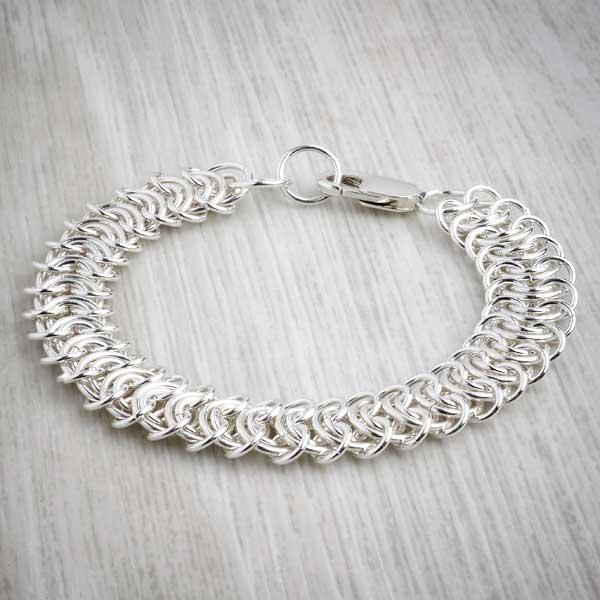 Silver Chainmaille King's Chain Bracelet by Laura Brookes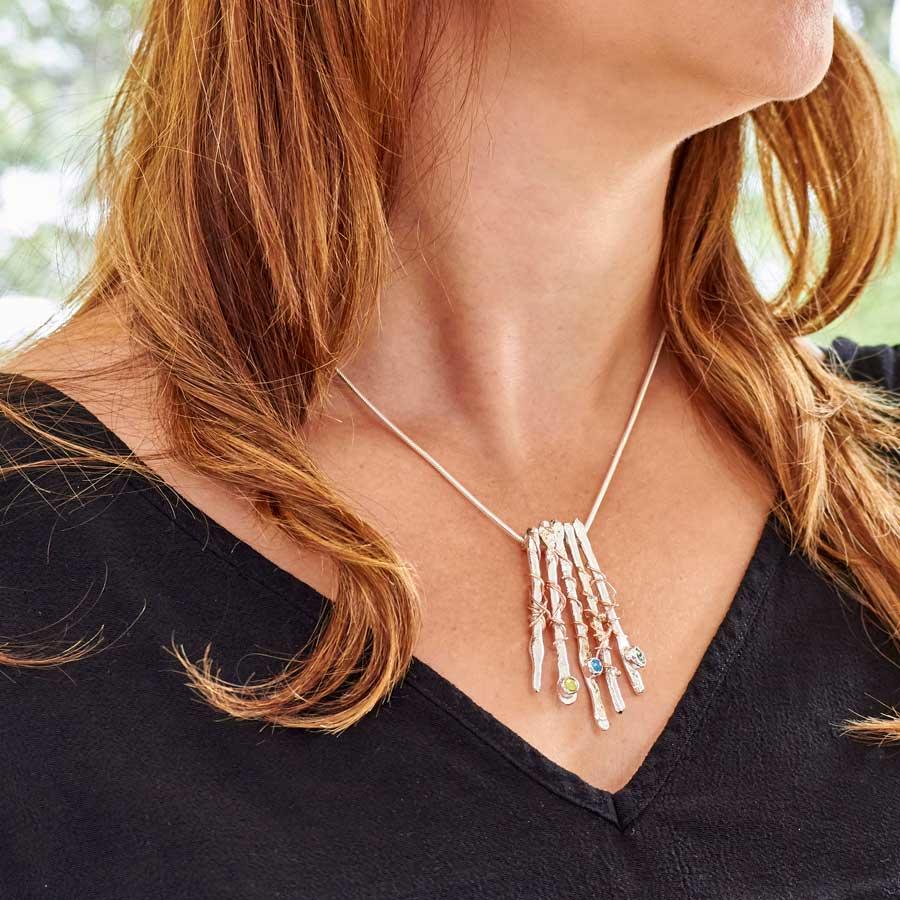 Twffa 5 piece necklace, silver with gold and gem details by Sally Ratcliffe