A Guide to Buying Jewellery. Can you believe it? It is 1st of December, nearly Christmas, the biggest event in any jewellery maker or retailers year. Almost 75% of jewellery sales are made in December, it is important to retailers, to makers and to shoppers everywhere. I wrote this guide for On Yorkshire magazine a few years ago and it is still relevant today.
Jewellery is undoubtedly the ultimate women's gift. It is by its very nature an intimate gift – worn close to the body – and it makes a strong and personal statement about the wearer. Jewellery can be sexy, cute, stylish, flamboyant, eccentric, individual or classic and has been used as a symbol of love and affection for centuries.
As the owner of a jewellery business and a maker of a couple of decades now, I am often told that buying a jewellery gift is difficult – and I agree. The risk in buying such a personal gift can bring an exquisite mixture of pleasure and pain, but I can help! This guide is honed from years of experience as a jewellery designer and retailer – and please believe me, as huge fan of receiving jewellery, it's worth the risk (take note Mr. White). When you get it right, it's the best gift ever.
Here are my pointers toward success under the Christmas tree!
Observe
Who is it for? Take note of their personal style. Do they dress in bright colours or neutrals? What sort of jewellery do they wear – small and subtle, or big statement pieces? Is it white or yellow metal? Are their ears pierced? Look at their wrists and neck; this can help when thinking about the fit.
Listen
Whose look do they admire? You can encourage an opinion with a strategically placed opinion of your own. If you shop together take note of things that elicit a comment and remember the piece so you can go back for it or look for something similar.
Pick Someone's Brain
If your intended recipient usually hits the shops with a particular friend, ask them for ideas. Generally women buying for their friends are more certain of their choices than a husband buying for his wife! If buying for a friend a second opinion can be useful – but beware – a third or fourth can over-complicate matters!
Use Your Retailer
Share the knowledge you have gleaned and ask for recommendations. Look for 'What's hot' or 'New Arrivals' to see what is popular, current and fresh. Ask questions and check out what her peers are wearing, or look at celebrities who have their finger on the pulse of fashion, remember to consider who your gift recipient admires.
A good website will guide you, advise you and inspire you. The right site or shop can save you lots of time. Jewellery websites and shops are full of little things to look at and if you have done a little research and know roughly what you are after you will save lots of time.
If you are buying a handmade piece it is lovely to find out about the jewellery, the maker and the history and inspiration behind the collection.
Have Something Made
Personalised jewellery is BIG business right now. Have a piece made with a special date or name on it, a personal message for a friend or even a favourite quote from a poem or song. You can also consider having a piece designed – have they always wanted a piece of amber set into gold and you can't find one? Have it made! Allow around 4-6 weeks for something designed from scratch and use a jeweller you trust. Personalised items are usually much quicker and take 1-2 weeks here in Pink Butterfly, other places may vary.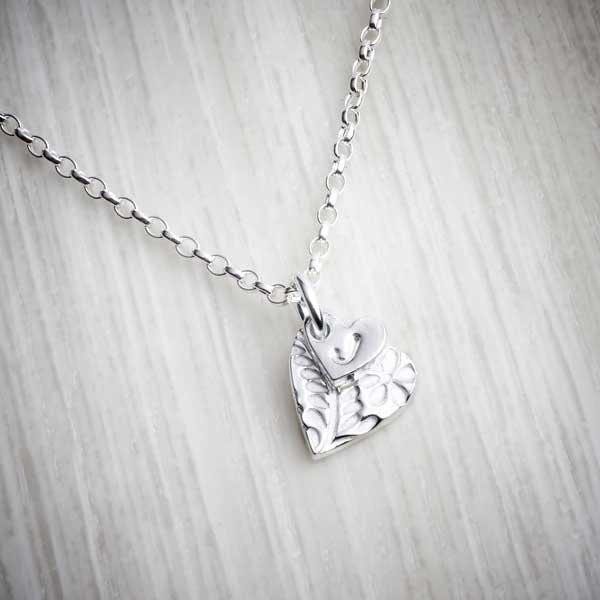 Get it Wrapped
Part of the excitement in a jewellery gift is in the beauty of its presentation. A pretty box, beautifully wrapped creates a buzz of anticipation and makes your gift that little bit more special. It can also make an inexpensive gift look much more costly – a real bonus if you're on a budget! Besides, it saves you having to struggle with the tape and ribbon yourself!
Get on with it!
In Pink Butterfly we don't see many women on Christmas Eve. We see a variety of men ranging from the calm and collected confident man who knows just what to buy, to wild-eyed, panic-stricken individuals, who have clearly just realised that Christmas Day is less than 12 hours away and are thinking about it for the first time!
Regardless of who the gift is from, or to, buying it should be an enjoyable experience. I believe that the pleasure in purchasing is directly related to the pleasure of giving. There are not many women out there who don't eye the smallest gift under the tree hoping for something special to wear on the throat, ear or arm. So take the plunge and choose a jewellery gift this year. Go on… make her smile.
Emma White is a jewellery designer and the proprietor of Pink Butterfly, a jewellery online shop that specialises in unusual handmade silver jewellery by British Designers and offers a bespoke design service and personalised jewellery, made in house by Emma. Pink Butterfly also houses Pink Butterfly's school of jewellery, where they teach traditional jewellery skills to lovely people in a gorgeous jewellery studio and offers a steady supply of banter and tunnocks tea cakes.