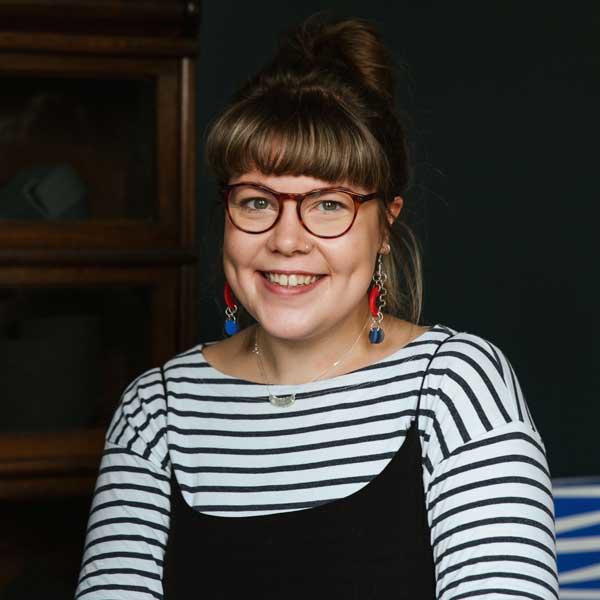 Meet Becca!
The latest Jewellery Maker to join our team
Travelling to Harrogate last April, I was excited to meet Becca Macdonald and see her work in person. I was headed to the British Craft Trade Fair, a show featuring all things handmade in the contemporary craft field. I expected it was going to be fresh and stylish and I wasn't disappointed. Becca's work has that perfect balance of being unusual but still very wearable and accessible for our customers. She was lovely and chatty and I knew she would fit right in with the ethos and the excellent service standards that is key to the success of our small business. I'm very pleased that she is coming on board and can't wait to showcase her beautiful jewellery. I asked Becca some questions to find out more about her.
1. What inspired this collection/your work?
I've always been fascinated with capturing and freezing fluid and ephemeral moments and movement. Like in the film Sound of Music - one of my favourite videos as a little girl - 'How do you catch a cloud and pin it down?' I enjoy working across creative disciplines and am inspired by whatever material I have at hand. When I discovered the magical silver clay I just thought it sounded amazing - a soft, malleable material that becomes solid. But not just solid, solid silver! I couldn't wait to start playing and from my playing, my jewellery collection was born!
2. What do you love most about making jewellery?
I love that you don't need a huge amount of space. Something beautiful and precious can be born from such humble surroundings. I am used to working in the studios of artists who employed teams of people and some had huge warehouse spaces and thousands of pounds worth of machinery. To create my jewellery all I need is a table top and my tools.
3. What is your least favourite thing about making jewellery?
I can't think of my least favourite thing! I can't believe it's work, it's my dream job!
4. Where are you based in the country, where did you start out?
I'm originally from Bradford and moved to London to study Textile Design and then stayed in the city for another few years following my degree. I moved back up north in 2018 and launched my jewellery business from my home studio in Saltaire.
5. What does your creative space look like - please describe it? Is it tidy or messy?
The glamourous basement at home! It is organised chaos, everything has its place.
6. How would you describe your own sense of style?
I've never been one to follow fashion. I buy and wear what I like and love stumbling across a great find in a second hand shop. I do love velvet! My winter wardrobe is basically all velvet.
7. What is your favourite outfit and what jewellery (from your collection) would you wear with it?
My favourite outfit changes week on week and that is why I love to wear my creased studs with gold nestled within the creases. Such a simple stud that matches any outfit and really fun to make as the pattern on each and every earring is unique. Although overall my Brushstroke Earrings have to be favourite piece as these were my very first design and the beginning of the whole collection.
8. Who inspires you? (someone famous/a mentor/family member/another creative/anyone!)
I am in absolute awe of the jeweller Polly Wales and her stunning 'cast not set' precious rings. I admire the experimental nature of her making process and love that the outcome of her pieces are always a surprise. I also really admire how the jeweller Leen Heyne makes solid gold look as soft as silk.
9. Do you have any workshop company? (Staff/helpers/pets/music stations/podcasts)
My gorgeous little puppy Ralph joins me in the workshop. He's a bit of a distraction though and always wants to play!
10. What is/are your career highlights? (Awards/favourite commissions/milestones you are proud of hitting)
Last year I was very proud to be chosen as both an IJL KickStart Winner and a finalist in The Professional Jeweller Awards for Young Jewellery Designer of the Year.