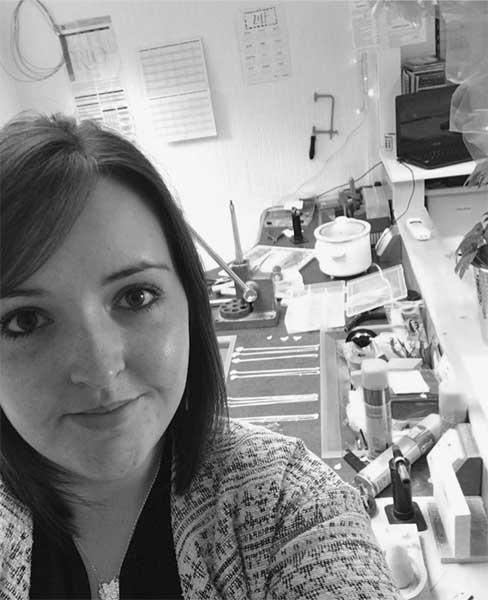 Meet Elin
One of the Jewellery Makers
Elin was one of the first Jewellery Makers to join THE JEWELLERY MAKERS, 3 years ago. I met her at a trade show and loved her pretty and simple silver floral jewellery. When we spoke I knew she would be perfect in our collective, with a wonderful way of talking to people and an open mind to a new way working! I knew she would look after my customers and be a lovely person to work with and of course the jewellery was perfect!
3 years later, she's now showing a new collection and it is absolutely stunning! The Chunky Silver Letter Necklaces are a perfect go to piece of jewellery, a great gist and perfectly personalised, but in a subtle way that looks great everyday. I'm so happy to launch it, I asked Elin some questions about the new collection and how she works in her beautiful home in the Welsh countryside.
What inspired this latest collection?
I wanted something simple with a touch of femininity to wear that didn't sway too much from my collections, saw a gap in the market as personalised pieces always sell well. I'm not used to be making such "chunky" pieces, as all my other collections are quite dainty.
What do you love most about making jewellery?
Being able to create a wearable piece out of raw materials, moulding and shaping to my own designs and getting lost in my thoughts, I find it very relaxing.
What is your least favourite thing about making jewellery?
The state of my fingernails!
Where are you based in the country, where did you start out?
I was born and raised in North Wales, in a picturesque area of outstanding natural beauty; The Llŷn Peninsula. I have a studio at home, and also very lucky to have a second workspace at Siop iard, Caernarfon.
What does your creative space look like - please describe it? Is it tidy or messy?
On the whole it is quite tidy, I can't stand to leave it messy at the end of the day so I always put every tool back in its place before clocking off.
How would you describe your own sense of style?
Quite low-key, I'm a jeans, sandals and a nice top kind of girl. I do like floral patterns, well any patterns to be fair.
What is your favourite outfit and what jewellery (from your collection) would you wear with it?
As above, but I tend to wear the same jewellery for long periods of time. Currently I'm wearing my Small Floral Heart Drop Earrings and an E Initial Necklace, something that's not too fussy and will go with everything.
Who inspires you?
Any creative that's able to sustain running a business and support their lifestyle by making and selling their own designs, wares or products.
Do you have any workshop company?
I'm lucky to have two workshops; one at home and the other in Siop iard. Siop iard is a collective of 5 jewellers and ceramicist. There's always a buzz in the shared-workshop, lots of talking and uplifting each other. When I'm at home I'm partial to the Mamma Mia soundtrack for some sing-along, or anything "chill-out".
What is/are your career highlights?
I'm proud to say that I will have been in business for 10 years next April (2021), never in a million years had I thought I'd be able to do it
What is your favourite piece in your collection?
I love how the spinning rings feel on your finger; very smooth on the inside and extremely tactile. I love the movement within them, they're very therapeutic. I always find myself playing with it without realising.