Mother's Day Gifts
Did you realise it is less than 3 weeks until Mother's Day? It's one of my favourite celebration days of the year (as a mum of 3 and step mum of 3 more it would be though wouldn't it?)
What is the perfect Mother's Day Gift?
I think it is a celebration with a potentially loaded gift though, don't you think? When our other big celebrations loom, like birthdays and Christmas, I think we mums have given our significant other and our main gift givers, some ideas about the sort of thing we would appreciate. Left a few brochures strategically lying around, maybe even sent a link to a product page, if we are going for the subtle approach!
However Mother's Day is a bit different, I don't really think about my own gift on the run up to it, far less drop any hints. I am usually thinking about what to buy my own mum, whilst also wondering what would be a good gift for my Mother-in Law! It's a celebration that kind of sneaks up on us, whilst life hurtles on.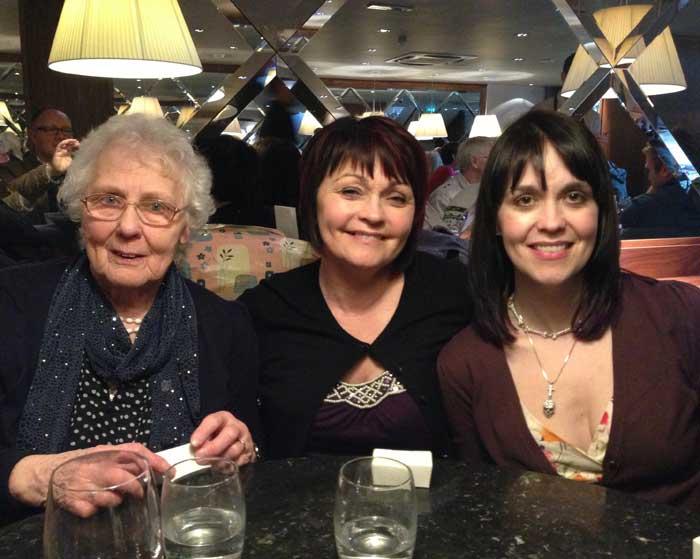 Why a personal jewellery gift is always a winner.
So without much to go on, we at THE JEWELLERY MAKERS are here to help! Everyone wants to buy the perfect gift for Mother's Day, but the Mother's Day gift can be a tricky one. It has to be considered carefully. It can be sentimental, but it doesn't have to be, but it definitely has to feel personal. It has to feel that you've given it some thought, regardless of whether you've bought for your mum, your step-mum, your godmother, your grandma or your other half on behalf of the children.
Handmade jewellery has that special touch.
It says 'I bought you something unusual (because I knew you would like it)'
'I bought you something personal (because you are special)'
'I thought about you and I sought out something different (because I know you so well)'
It says you bought with care, attention to detail and love!
Handmade jewellery is not so easy to find, as the usual fodder on the High Street, and finding great jewellery and buying something that's been made by hand says you put in some effort.
MAJOR BROWNIE POINTS! BIG ONES!
When you get it right, it is the best feeling! It's a wonderful thing to see your mum or wife smile 'that' smile when they open a little box with something shiny inside. I am here to help guide you to make sure you see that smile and get ALL the brownie points!
So what do you buy for that special woman to show your appreciation? Something to say: 'HEY! YOU ARE REALLY RATHER MARVELLOUS!' Nothing says that better than jewellery?
Here's our guide to 12 top jewellery trends perfect for Mother's Day gifts! Are you ready?
1. Personalised
Personalised jewellery is still a huge trend, most often used to celebrate family, this is still our most popular collection, made by Emma White (errr...me!). With it's teeny tiny letters, your message can be discrete and personal or keep it simple and choose to have your children's names or birth dates added to your piece. There are lots of designs to choose from, here is a personal fave!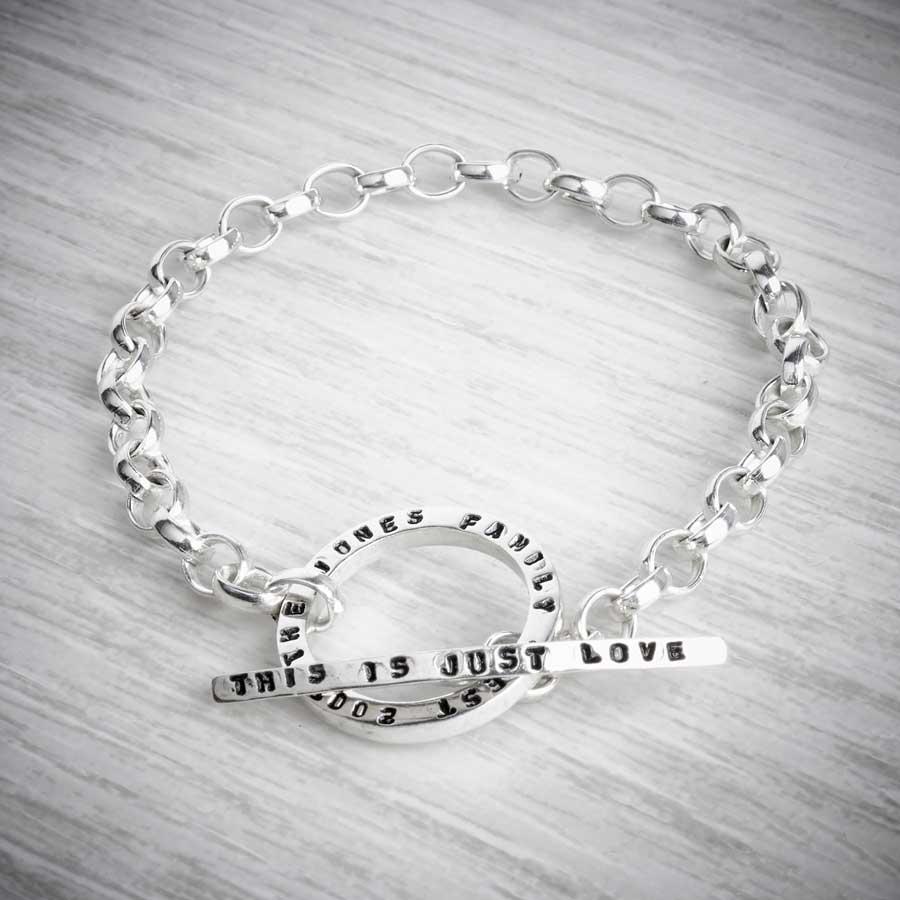 2. Mixed Metal
This is bang on trend daahling. We have a few collections that use different metals to add colour and interest, from the whimsical to the sleek and sophisticated. This collection from Xuella Arnold, works with bronze and silver to create jewellery that is reminiscent of stories and folklore, with whimsical imagery and tales of journeys and life. The mixed metals work so well when there is a statement to be made, and I think you'll agree that this jewellery certainly makes a wonderful bold statement.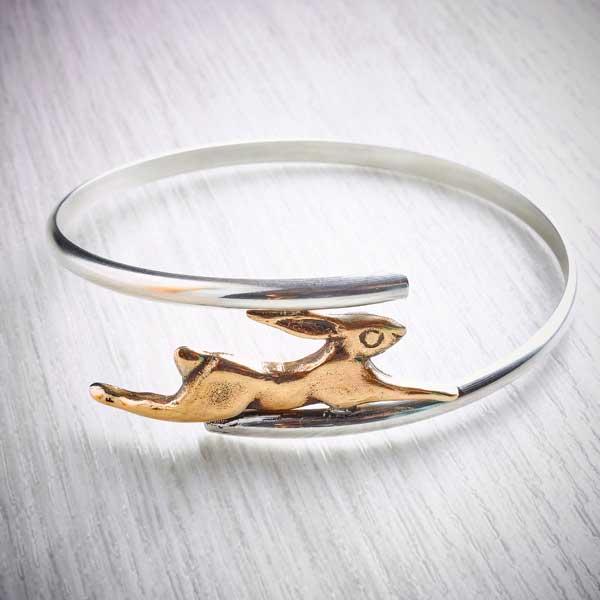 3. Gemstones
Another way to add some colour is to choose some beautiful gemstones, this collection from Jewellery Designer and Maker Sally Ratcliffe, comes with a choice of 7 different gemstones so you can work in a favourite colour or stone or even go with a rainbow of different gems, set into silver and gold handmade rings, necklaces, bangles and earrings.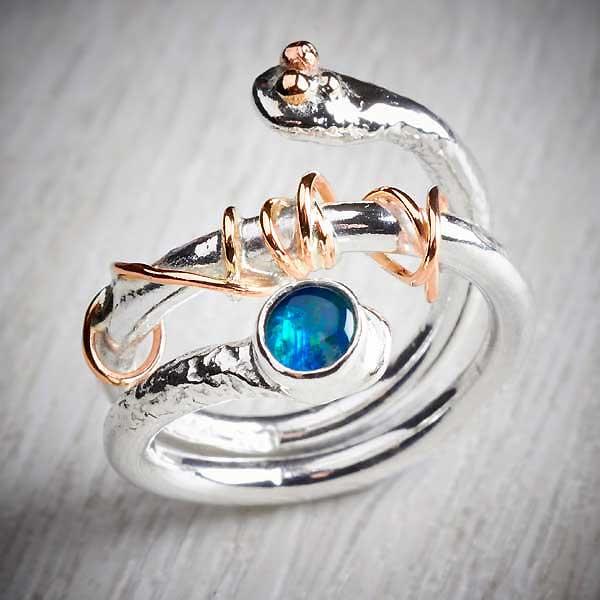 4. Something Kooky
These quirky earrings are made with old sixpence pieces! Our Jewellery Maker Leigh Shepherd works with old scrabble tiles and draughts pieces too to make these gorgeous earrings, necklaces and brooches. She uses her own beautiful drawings and resin to create something really beautiful out of something just a little bit different, perfect for someone who likes quirky jewellery.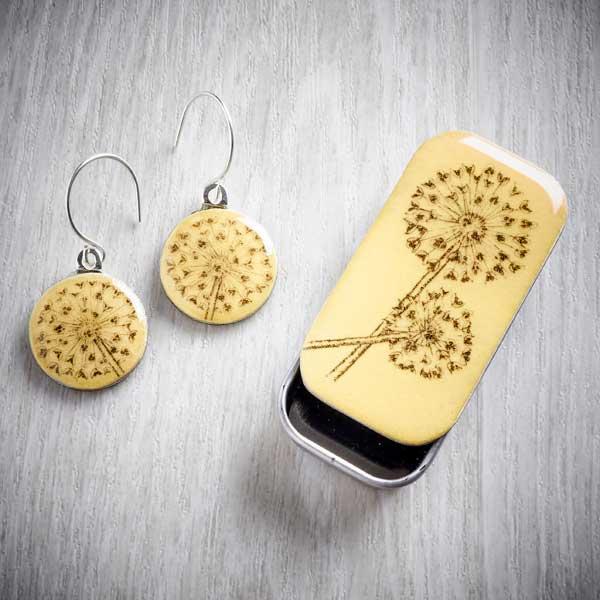 5. Sleek and Sophisticated
This handmade silver collection is plated with a warm and buttery layer of 18ct gold creating this delicious ombre effect. This is a sophisticated and glamorous collection, from the talented Jewellery Maker, Melanie Hamlet of Kokkino. The smaller pieces are great for instant glamour while the big statement pieces will steal the show on a special night out, perfect for a glamour puss.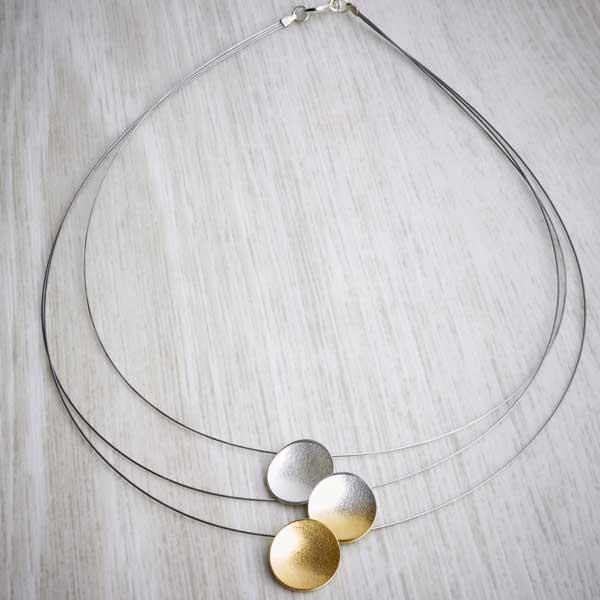 6. Little and Lovely
This latest jewellery collection has just landed with us, it is pretty and ever so wearable, with it's reticulated surface and touches of 18ct gold blush and pearls. This collection comes to us from the Mother and daughter team of Fi Mehra and her daughter, Sasha. How apt for a Mother's Day gift! Check out the peacock pearls with their shades of purple and pink! These smaller scale pieces would be great to wear everyday or as a finishing touch to a statement outfit.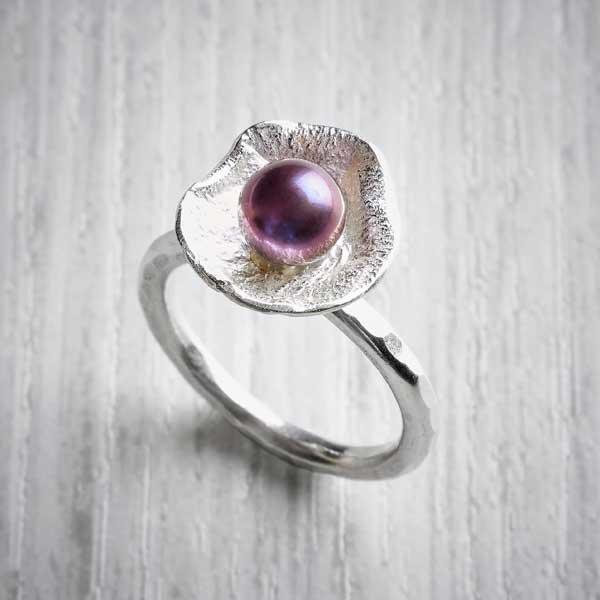 7. Shiny Shiny
This range is versatile and easy to wear, the small pieces are affordable and simple, while the bigger necklace, bracelets and earrings make a bold statement! The designs are based on traditional chainmaille from armour worn for protection in battle! Our Jewellery Designer Laura Brookes has adapted those designs into the most striking collection of chainmaille jewellery, it's a far cry from armour but it is full of movement and with it's high finish, the shine that shimmers as it sits perfectly on the body is really very special.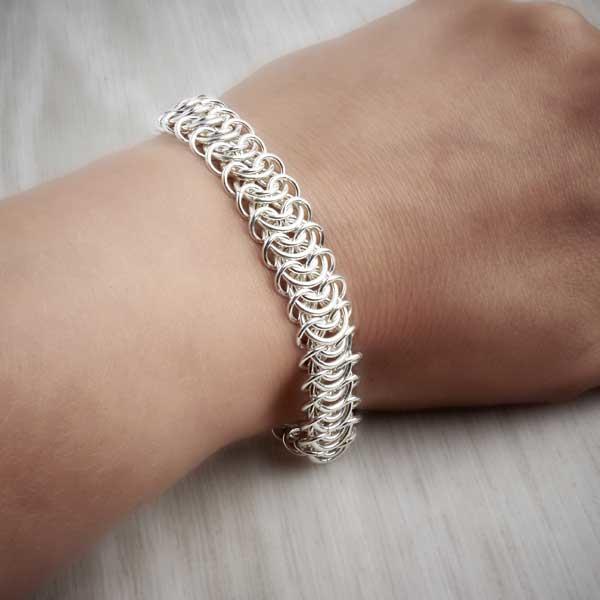 8. Dark and Glamorous
Another unusual collection of handmade jewellery embraces the contrast between black and gold. This collection is literally stitched through with a gold thread! It is made of silver and some pieces are treated with a chemical to make the silver turn black creating a bold statement, amazing with a Little Black Dress, or a crisp white shirt. This collection in black or white from Jewellery Maker, Sara Buk, will stand the test of time.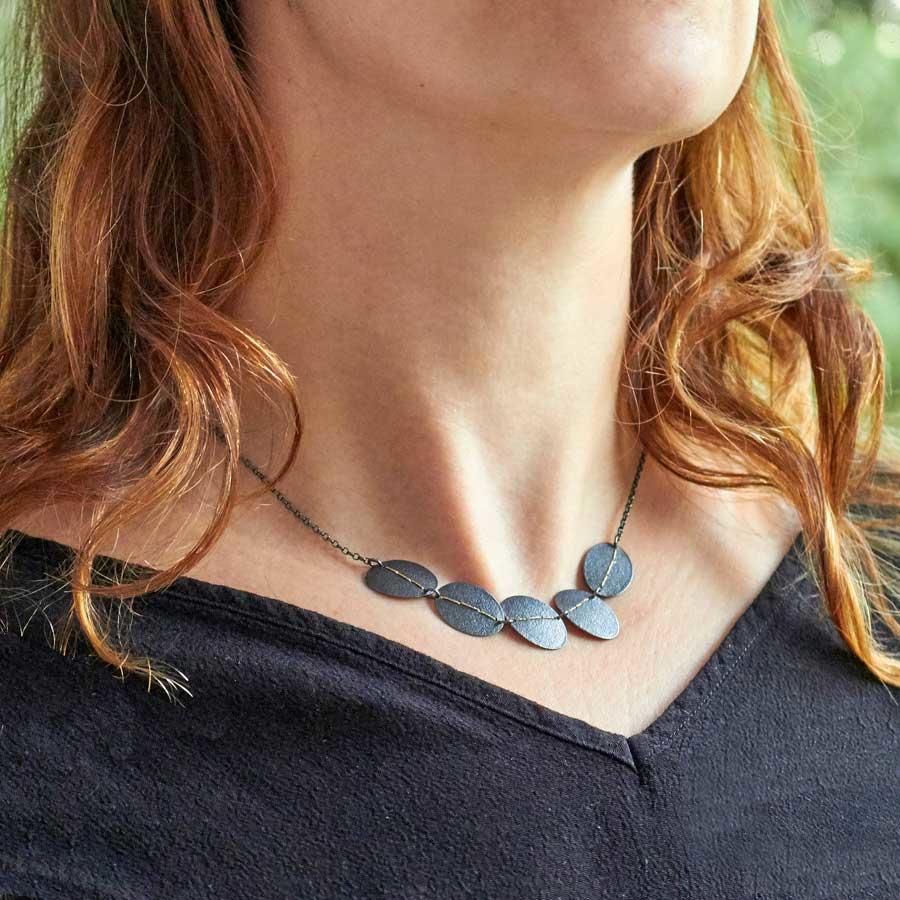 9. Recycled Silver
We have to show you this collection from our 'Spoon Lady' Evie Milo. Each piece is made from antique silver cutlery! Sterling silver is salvaged from the bowl and the stems of old solid silver spoons and are reworked into something exquisite with a whole new lease of life. We have the unusual and popular spoon rings, made from the silver spoon handles, and also a collection of jewellery inspired by the coast, made from the silver spoon bowls, reworked with interesting dark textures. A perfect present for someone who likes a story with their jewellery.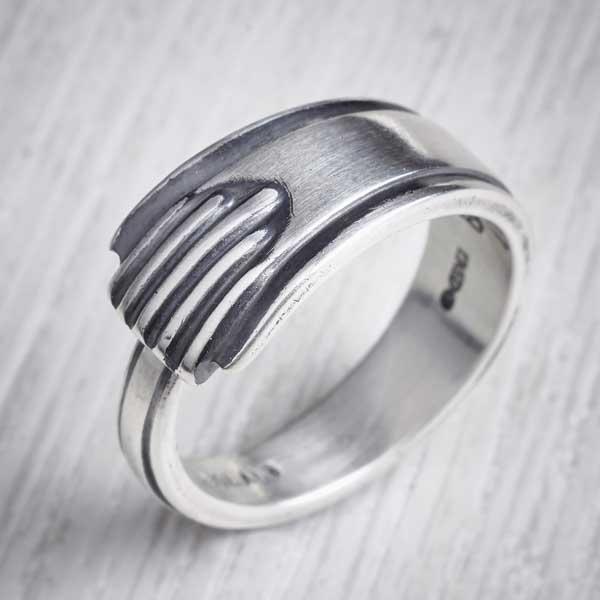 10. Fresh fashion
This collection is so cool it hurts. Silver lines, squiggle and wiggle around the body as if someone has made a drawing for you to wear, Alice Chandler is a multi disciplinary artists who has recently turned her attention to jewellery and her work is fun and fresh, It's a fashionistas dream!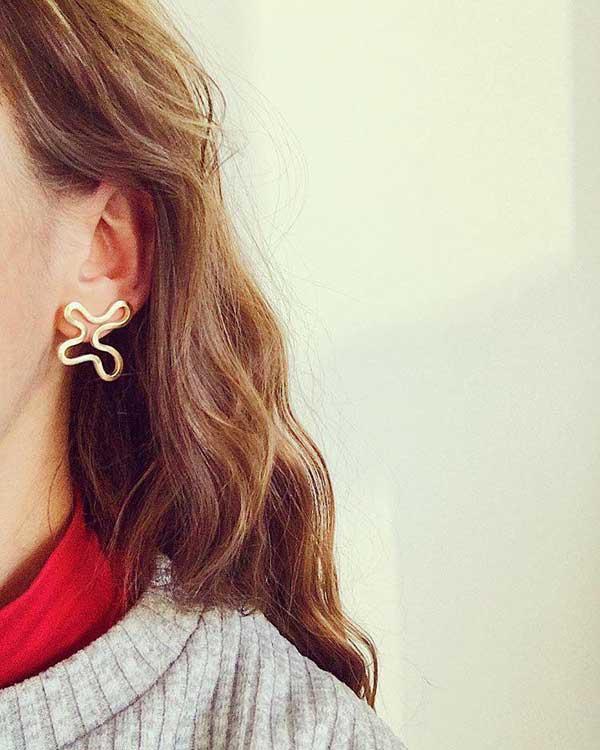 11. Floral
This pretty flowery collection of silver clay jewellery from Welsh Jewellery Designer, Elin Mair, features handmade necklaces, earrings, bracelets and rings. It is very easy to give to women of different ages, it's a fave with mums and grandmas and it works as a gift to wear everyday with many different outfits. The stacking rings are also a popular choice and can be added to over time, making gift buying easier next time there's a celebration too! Bonus!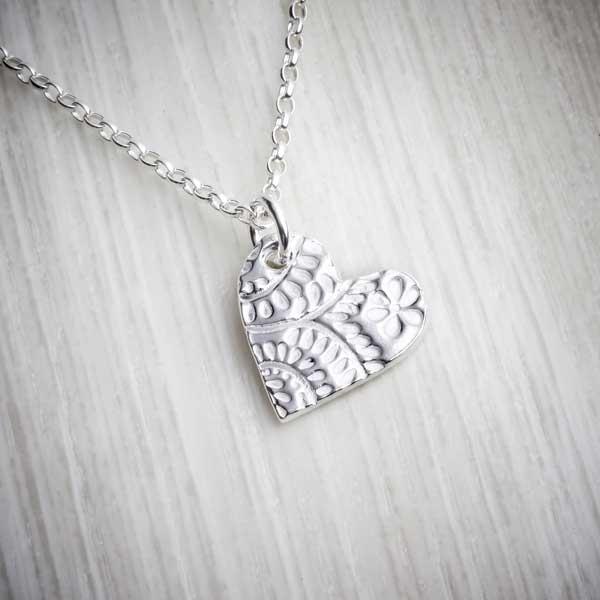 12. A little bird told me...
This silver jewellery collection is perfect for spring, there is a theme of flowers and birds running through this gorgeous collection, by Helen Shere, Jewellery Designer and Maker. Birds have been a huge trend in recent years and they haven't flown off yet! There are many gorgeous handmade jewellery pieces to select from, these are my favourites.