Who needs glamorous jewellery in lockdown?
Well, during this lockdown I've had my fair share of days in my elasticated trousers folks, but I have to say that when I do make the effort to wear something 'nice' apply a little make up and choose a piece of contemporary jewellery to wear I feel better prepared to face the world. When I say 'the world' I mean the tiny little bubble that my world has become.
My bubble consists of my husband, my two sons, my step daughter and my little girl. Of course I care that they think I look nice, but honestly, my efforts aren't really for them (sorry Mr W!) they are for me. It's more than about how I look too, it's all about feeling that I've spent that little bit of time on myself, that I've cared for myself, that I've given myself thought, even if it amounts to only 15 minutes in a day that is otherwise full of thoughts of snacks and home schooling and washing and emptying the dishwasher.
So here are my favourite lockdown pieces, they are easy to wear, versatile, fun and poignant.
Rainbow of Hope Necklace by Emma White - £60
This is my iconic lockdown piece. a handmade rainbow necklace in silver, brass and copper. I started the lockdown with a double giveaway which was won by someone, who nominated her key worker hero, a care home worker who looks after her mother. They both won one of these gorgeous rainbow necklaces. It's also been my favourite go to piece for the last couple of months and also has been our best selling product. It's easy to wear and it sparkles in the sunlight. It goes with everything, I wear mine all the time. If you like it, keep your eyes on my social media feed for another opportunity to win one coming your way soon, or you could just treat yourself! They are rather lovely.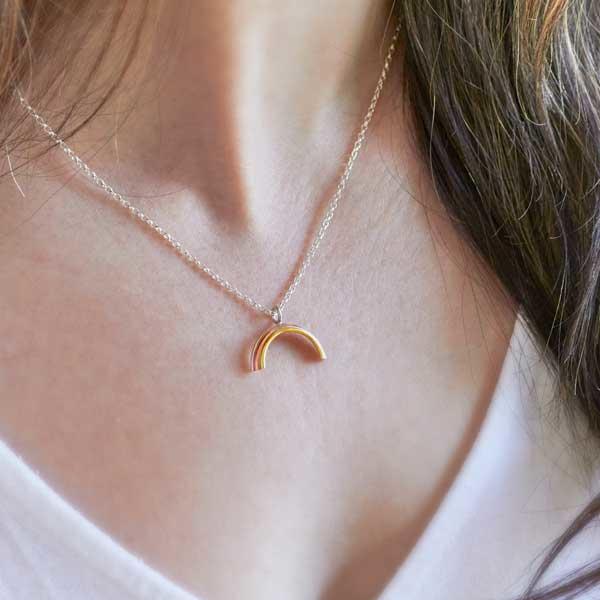 Charity Necklace 'Home is where the heart is' by Emma White - £130

*For every one of these sold £25 will go to LEEDS WOMAN'S AID*
Domestic violence is on the up. Families are being forced to stay at home with little time apart and while this might be fine for most, for some people, home is not a safe place. This beautiful silver and copper hand stamped necklace, has an important message and is sure to be noticed on your neck, it's a sign of the times, a time we will never forget.
A dramatic rainbow shines over the silver home, this unusual handmade necklace is a symbol of hope. A wonderful gift for those whom you are missing, for someone who is working to make home the best place to be, or maybe for someone who has stayed home to protect us all, because they are shielding or protecting someone else who is vulnerable. This is a time of great difficulty, but also of great kindness. It's a beauty of a necklace that will remind us of how lucky we are, when it's sometimes hard to remember.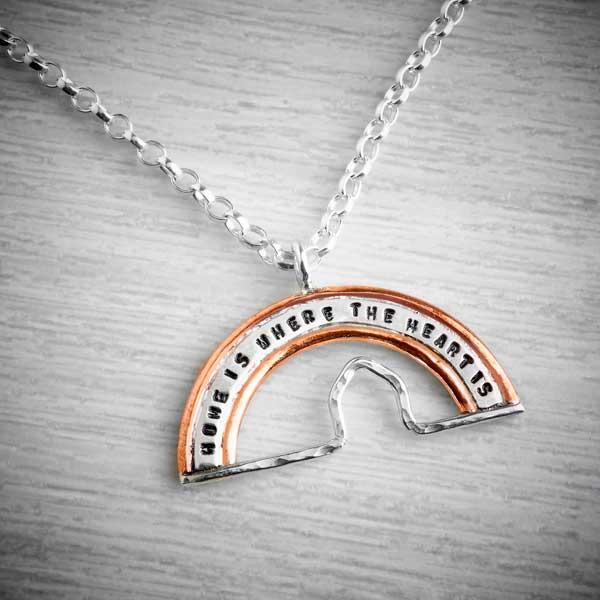 Double Bangle with Birthday Bead by Emma White - £150
It's never felt so important to send a message to our loved ones. The ever popular personalised collection is perfect when you want to send your message and have it immortalised in silver to be cherished forever. This gorgeous silver double bangle can contain songs, poems, favourite quotes or your own words. The letters on this hand stamped bangle are small and discreet and perfect for your personal thoughts or a private sentiment. Ideal for a special occasion or a key milestone of life or to mark and remember when we lived through a strange and memorable time. This bangle can fit on a long message. Joined with a single birthday bead for an extra word or two.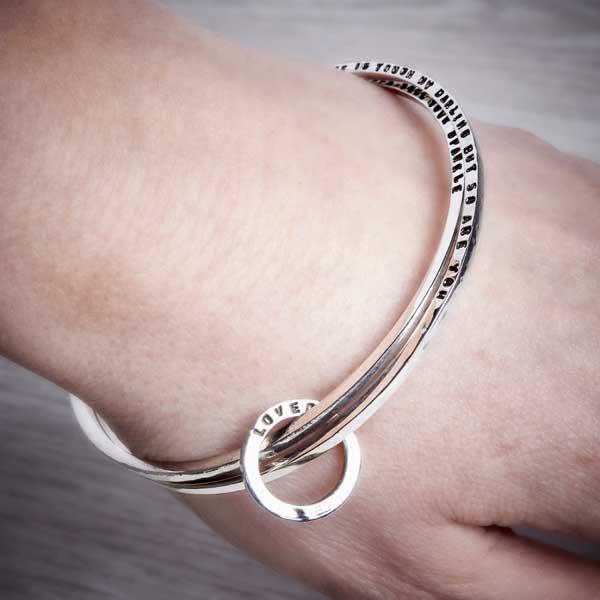 Red heart stud earrings by Clare Collinson - £22
These are teeny tiny, cute, cute, cute, very pretty and affordable. The perfect handmade earrings with little red hearts drawn on paper, sealed with resin and set into silver. They make a perfect little present to cheer someone up. They can be sent direct to whomever you choose in the UK, posted and gift wrapped for free.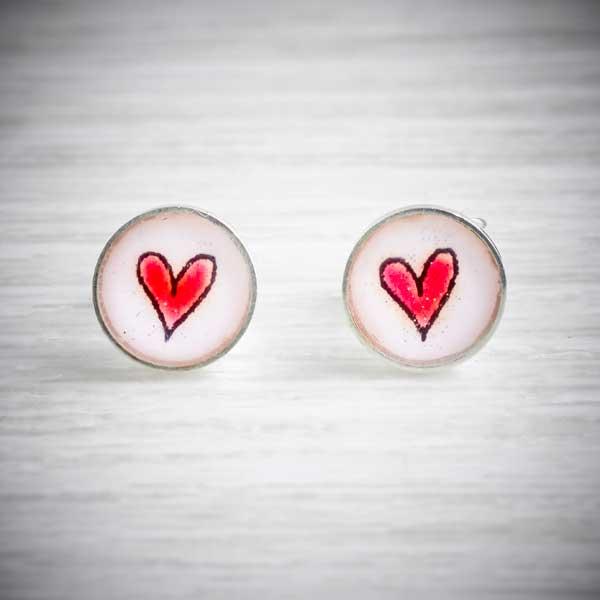 Ivy twist ring by Sally Ratcliffe - £103
It has tendrils of ivy that curl and sneak around the silver. It reminds me of the strange twists and turns of life right now that I can't seem to get my head around, every day is the same but every week is different, it's a roller coaster of changing emotions and feelings, this silver and gold organic ring symbolises that perfectly for me. Softness and hardness, strength in solidity and strength in learning to be flexible, it's all here in this beautiful, timeless ring for your finger.