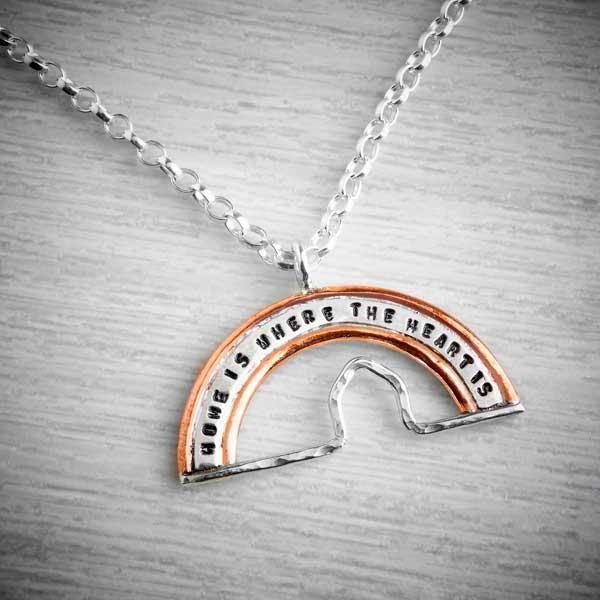 'Home is where the Heart is' Rainbow Necklace by Emma White - £130
Rainbows have become an iconic symbol of this strange time that we are living in. They symbolise hope, love and consideration for others. They appear above us, lit up in amongst the clouds, the rain, the sun. We can see them, but not touch them, they have that tempting pot of gold at the end (where actually is the end BTW?) Who knows right now, who knows?
In light of all this I felt the need to do something, but honestly, I'm just not that useful. Apart from an unhealthy addiction to google every time one of my children is ill, I have no medical expertise to offer the world. I can't sew for toffee, I can't bake bread, I can make jewellery, I'm not bad at social media, I can draw and paint a bit and my singing is passable. Nothing there remotely useful in a global pandemic. So this is what I came up with…
With my limited skill base of making things and selling them I hope I can make a difference, albeit a small one. I have designed two necklaces, rainbows of course, that I am going to sell with a large chunk of the price going towards a charity that will be under huge pressure at this time and will be for some time afterwards.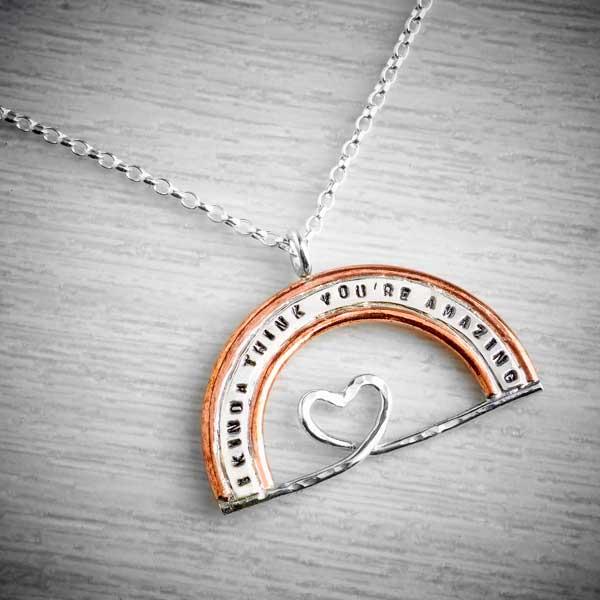 'I kinda think you're amazing' Rainbow Necklace by Emma White - £125
The charity is Leeds Women's Aid, a charity that is providing services to women and children affected by Domestic Violence & Abuse, which is booming as a result of the COVID-19 lockdown. Can you imagine being trapped in a house with an abusive partner or parent with no escape, 24/7 for weeks at a time?
*For every one of these necklaces sold £25 will go to LEEDS WOMAN'S AID*
These striking handmade silver and copper necklaces, have an important message. Each features a shining rainbow sparkling over us, at home or at work. Exquisite artisan jewellery, made by hand and sent with love. Delivered direct anywhere in the UK, gift wrapped from your heart to theirs. Send a thoughtful gift, with a thoughtful message whilst supporting an amazing charity helping women and children in need when they need it most.
It's a tough time and never a better one to tell someone you admire that they are doing a really good job however they are getting through.