From one life into another, creating handmade jewellery that works for you
THE PROJECT
Hannah brought me a gold wedding ring to look at. It held great sentimental value for her. It was her grandma's, but not her actual wedding band but another wedding band passed down from an older relation. Hallmarked in the mid 1800s!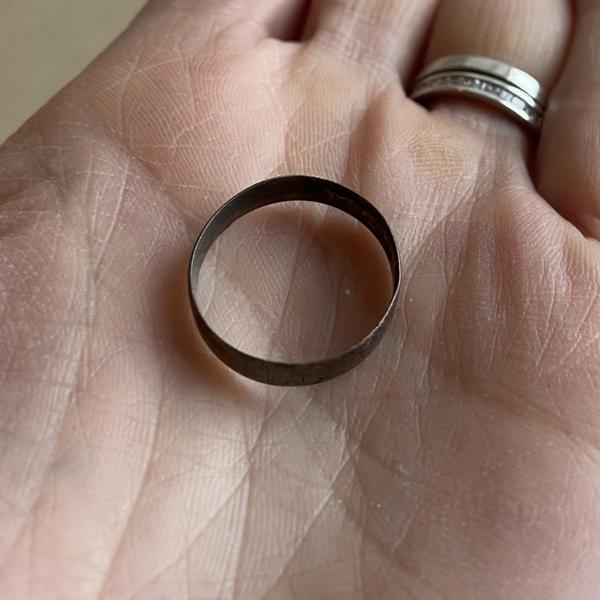 THE ORIGINAL RING
The gold was super worn with remnants of an engraving we couldn't quite make out. Very thin, obviously worn and loved for many years, but the hallmark inside was large and fairly well preserved.
Hannah wore this gold ring everyday but she felt it was so thin, it was fragile and wanted to know if I could help her to make it into something more robust. We set a date to work on the project together.
THE HANDMADE SOLUTION
We made a contemporary silver ring to wear as an 'inner'. Hannah stamped a personal phrase inside that held meaning for her. The handmade silver ring fitted but the gold ring was too small to slot over it. Stretching something so thin was not a good idea, so what did we do?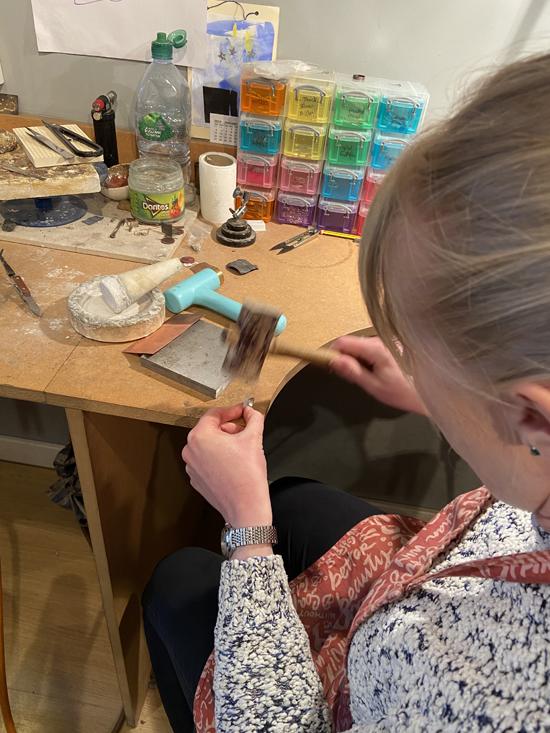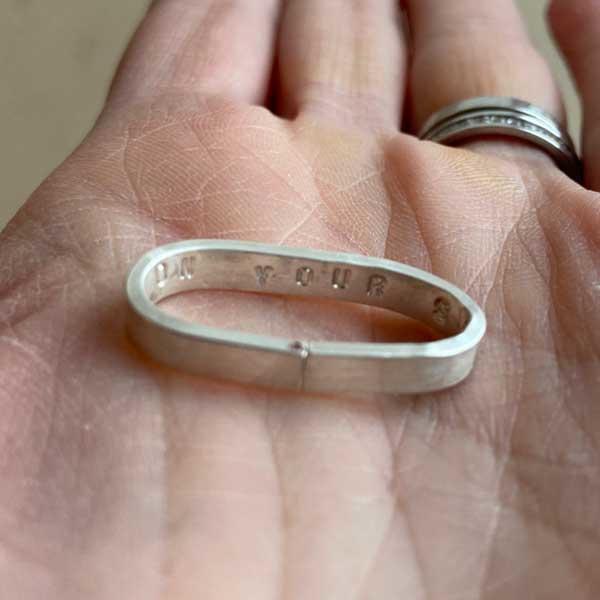 THE HISTORY OF THE HALLMARK
We cut the old ring open, through the original solder join. We pieced in some gold to enable us to make it a bigger size. We soldered it back together the WRONG WAY ROUND to make a feature of the lovely old hallmark. Hallmarks are amazing, they can all you the date that the piece was hallmarked, usually this happens just before or just after jewellery is made, so you can roughly work out when it was made. Every year has a specific letter and a specific shape around it, which is unique to that assay office and that year! Clever huh? The other stamps tell us what metal the jewellery is made of and which of the four Assay Offices stamped it. Then there is the maker's mark, which is registered to maker with their initials and a shape, so each one is unique! So every hallmarked piece is easy to trace back to it's originals. Hallmarks are special and worth preserving. So we did!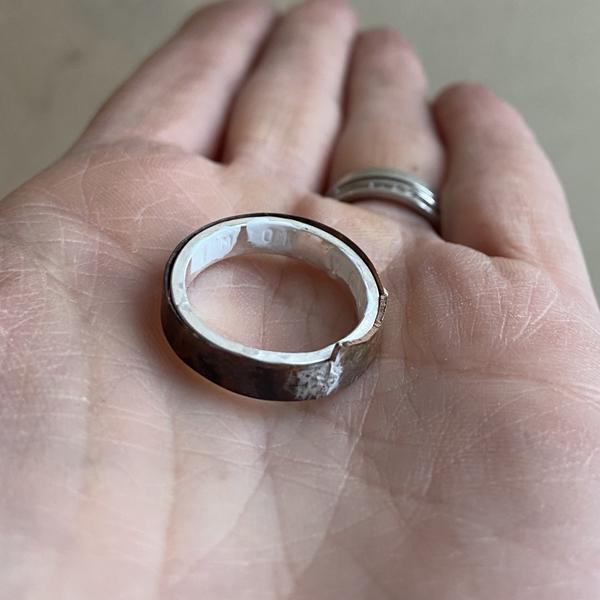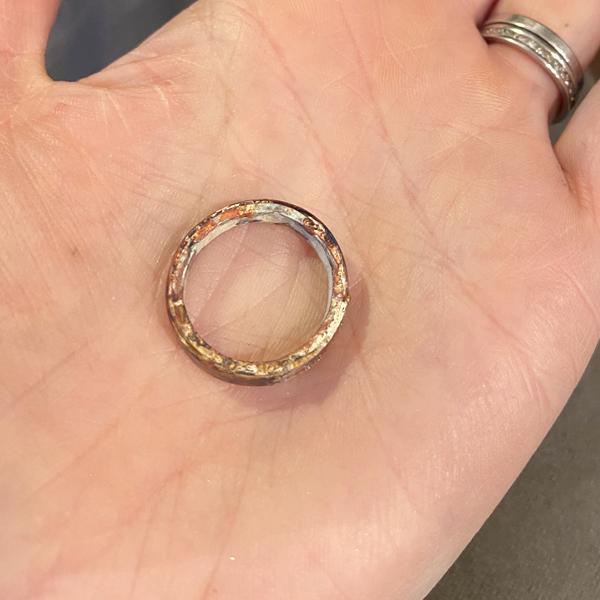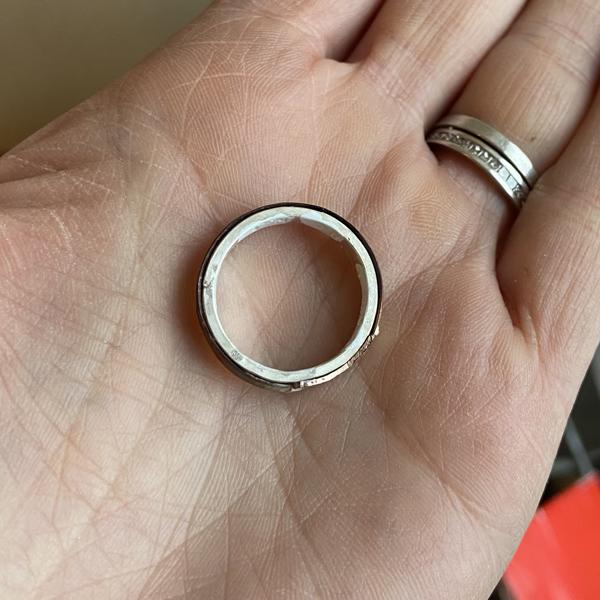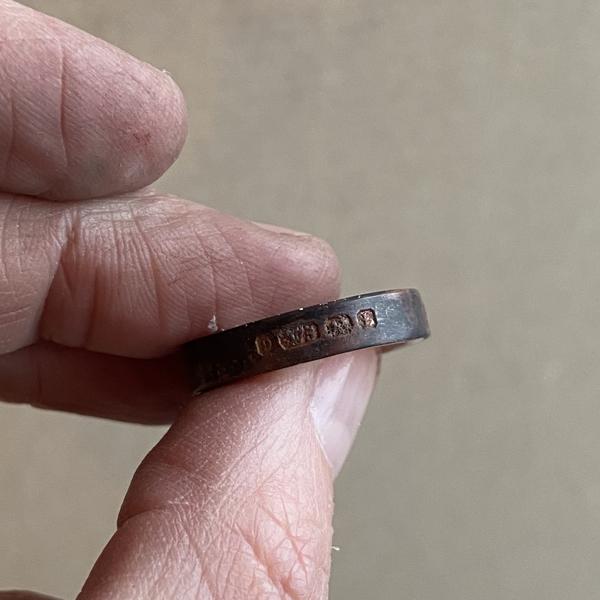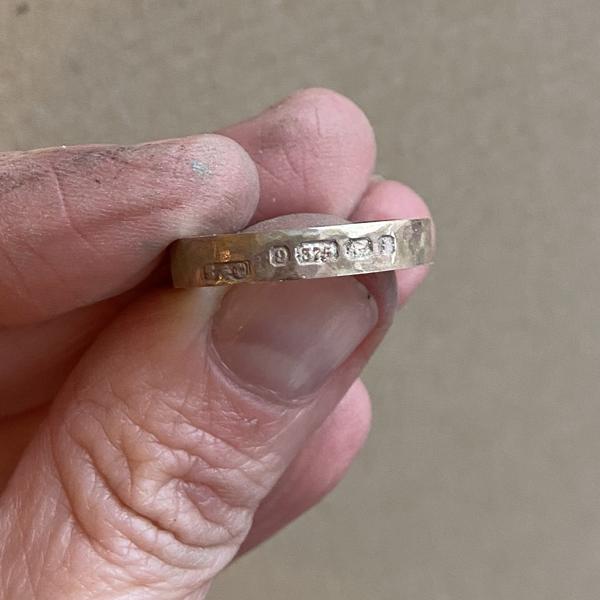 A WONDERFUL PIECE OF CONTEMPORARY JEWELLERY
Hannah soldered the two silver and gold rings together. Old and new coming together to make something fresh! She lightly hammered the gold for interest and we polished it all up and made it sing! A hand stamped personalised silver ring, paired with an antique gold wedding band made a wonderful combination. The final stage of polishing brought out all of the details on the hallmark, celebrating it's history and making the ring even more special to Hannah, because now she can wear it for many years to come.
Hannah was a complete beginner! With my guidance she created something she will treasure forever and get years and years of wear out of. A piece of history preserved. I love that we kept the original hallmark, where others would have melted the whole thing down. Hannah is someone who loves the history of family and needs a solution that honoured the history of the ring and I think, together we achieved that. Didn't she do an amazing job? If you are interested in our one to one teaching for a special project please visit our website, there are many ways to learn with us. Night class, day class, weekend class, one to one, there's nothing quite like the buzz of wearing something and looking at it on your body and thinking 'I made that'. ☺️