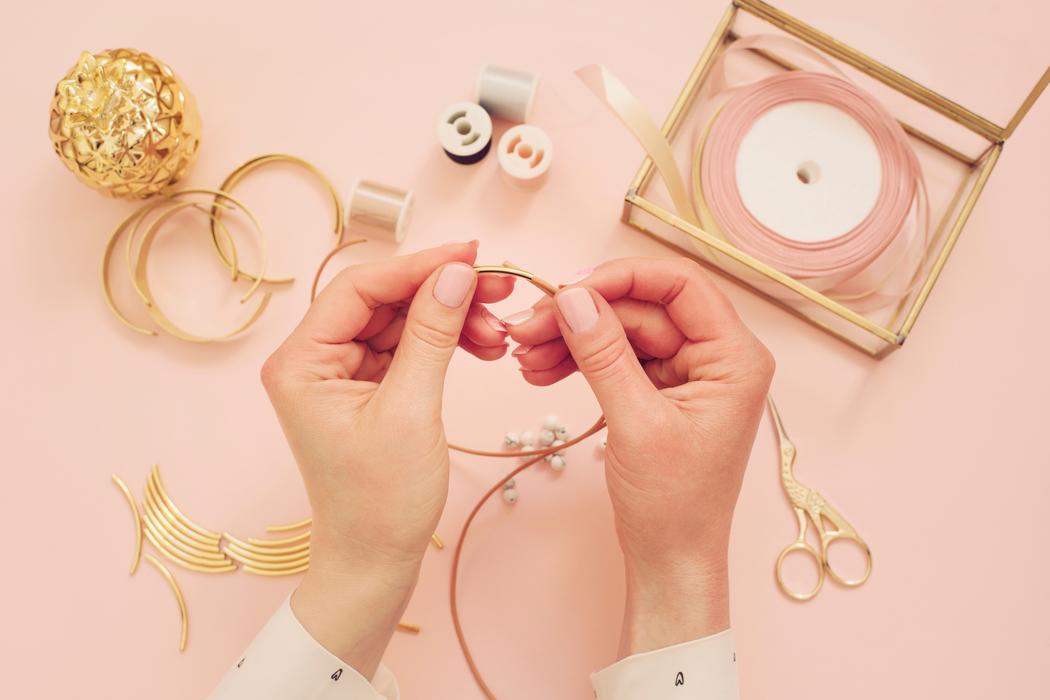 We don't know how 2021 will go. Last year taught us that bigger forces can change our daily life on a massive scale any day — not to mention that Zoom quizzes and a good supply of comfy trousers are a must.
That being said, the appeal of handmade jewellery is that it lapses time. The amalgamation of the individuality that each piece is infused with and the hands-on expert craftsmanship and passion that goes into creating each item means handmade jewellery can capture the trends of the moment or be passed on for generations to come.
At The Jewellery Makers, we believe that the top handmade jewellery trends for this year are about making an impact while still being easy to wear. It's about making a statement, but also about showing your unique style and individualism. From chunky chains to personalised pieces, keep reading to find out what we think will be the biggest handmade jewellery trends in the upcoming year.
Chunky Chains
If you thought that there is no place for jewellery at home, we invite you to reconsider. Even if you plan on staying in loungewear for the foreseeable future, there is one major jewellery trend that will fit your aesthetic, whether that's sweatpants or summer dresses, and that trend is chain necklaces and chain bracelets.
With their ability to add an injection of contemporary glam to even the most dressed-down looks, it is clear that going into 2021, chains will continue to be popular in handmade and cast looks.
Let's Get Personal
Personalised jewellery is something we've always loved here at The Jewellery Makers. We are experts in hand-stamped jewellery — a key part of our business since the beginning and even before, when our head honcho Emma spent hours stamping quotes from Romeo and Juliet and Alice in Wonderland into silver vessels while she studied for her degree. So lucky for us, it is set to remain a key handmade jewellery trend in 2021.
When it comes to choosing your personalised jewellery, whether as a treat for yourself or as a gift for a loved one, here are our tips to ensuring your piece feels truly unique:
Express Your Individuality
Personalisation doesn't need to be overt — choosing a curatable piece of jewellery is a wonderful way to create a look that's completely your own. Whether it's day to day or for different occasions, a personalised piece can change with your mood and evolve as your style does.
Choose Something Meaningful
Personalised jewellery doesn't have to be just about you. It can be a display of affection for a loved one, a symbol of your deepest desires or a reflection of something going on in your life right now. For example, our Silver Personalised Initial Pebble can show the initials of a loved one or represent something else close to your heart.
Get Creative
We also have the perfect collection for a longer message or a private sentiment, allowing for maximum creativity. Our Tiny Text Collection is stamped with teeny tiny one-millimetre high letters, which can be read up close but not from far away — the perfect way to tell someone how much they mean to you for only them to read. From our top-selling Tiny Text Necklace to the popular Tiny Text Double Bangle, there is a piece for everyone. You can choose your longer message or specify song lyrics, a poem or a favourite quote.
Charity Conscious
Handmade jewellery created for a particular cause will be a top trend this year. Our customers want to know that they aren't negatively impacting the world with their purchases; the more sustainable and charitable the piece, the better.
Our Charity Rainbow Necklace is a beautiful silver and copper necklace with an important message engraved "Home is where the heart is". This piece of jewellery reminds us of how lucky we are when it's sometimes hard to remember. For every one of these necklaces bought, we donate £25 to Leeds Women's Aid.
Completely Charm-ing
Symbols of luck, love and spirituality are as strong as ever. This jewellery trend has been popular for a few years and hasn't peaked yet. It seems that charms are like chocolate — you keep wanting more. And you are in luck; our designers love creating them. From our Silver Small Spring Charm Necklace to our Silver Clay Floral Heart Small Charm Bracelet, you can keep adding new pieces to old favourites and continue your "charming story" as the year progresses.
Where to Buy Handmade Jewellery?
It couldn't be easier to buy your unique on-trend handmade jewellery through The Jewellery Makers.
We've set up our online marketplace to make it simple for you to find what you're looking for. You can browse by type of jewellery, collection or in our personalised section. If you've got a particular seller that you've bought from before and loved their work, then you can go straight to their specific storefront and see what else they've got available.
Purchases are quick through our dedicated online store, and payment is always secure. As a bonus, all our post and delivery is free within the UK. This means you can browse our range without having to worry about the added expense of getting it shipped.
For more advice on what handmade jewellery to wear right now, see Emma's edit of Perfect Handmade Jewellery to Wear During Lockdown.
Browse our range of beautiful handmade jewellery today and discover the perfect gift that you won't find anywhere else — for someone special or yourself!