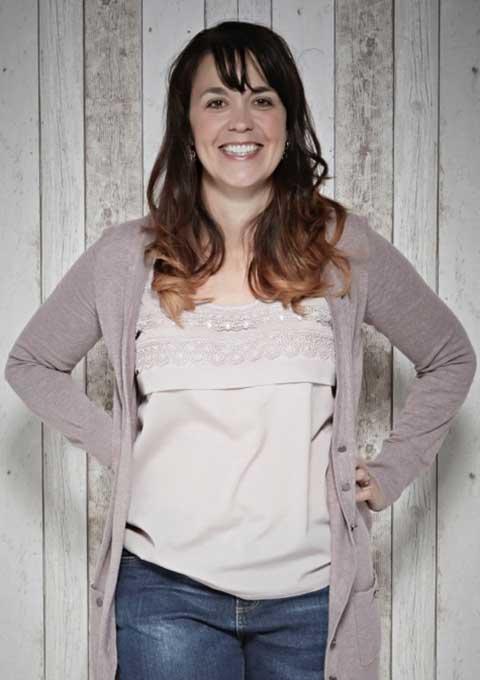 Hi, welcome to my first blog, to my website and the jewellery obsessed world of Pink Butterfly.
Bling is my thing
My name is Emma, I've been nuts about jewellery forever. My first memory of being dazzled by jewellery is of rooting through my Nana's jewellery box as a little girl, no older than 3 or 4 years old, gazing at the 'diamonds' which were actually blingy crystal costume jewellery. I thought they were magic. I still do!
Even after making jewellery for all these years, (20 or so but who's counting) I still can't walk past a jewellery display without looking, I still buy jewellery from other makers, my husband buys for me too, though most other people are too scared to buy jewellery for a jeweller! I'm really lucky to have collected some stunning unusual pieces of jewellery from some very talented British designers; I'll share those with you one day.
Love it, wear it, make it
I just love jewellery, I love it all, cheap bling, plastic fantastic, beads and stones, but the handmade artisan pieces in metal, that still looks like metal, that's where my jewellery heart lies. I love silver, the look of it, the feel of it, how it wears on the body, how it melts, how it moves when working it, there isn't anything I don't like about it. Gold too is a favourite, and I really like mixing the two metals together.
Small is beautiful – a real life micro business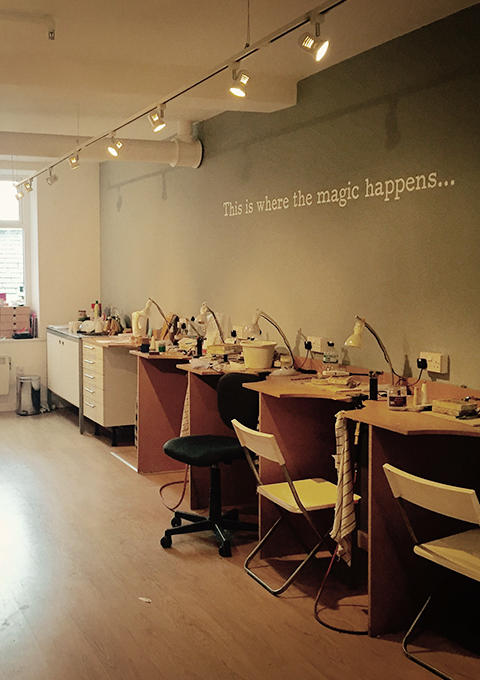 Pink Butterfly is my own little jewellery haven, it's a online retailer, a workshop and a school, it's a small world, mainly just me but with a few other people who feed in with their expertise, mainly my photographer husband and my IT boffin type peeps who are kicking this here website into touch. I'll show you what it's like to work in such a teeny tiny business, the real deal, the late nights and the happy dance when a customer loves something you've made.
Winging it – balancing work and family
Ordinarily I design, make and sell my own designs in silver and gold. I also take on commission work and I teach classes from my gorgeous studio in Sunnybank Mills in Farsley, Leeds. But I say ordinarily because I'm currently at home with a poorly 2 year old and a beautiful new baby!
I'm a busy mum of 3 children under 6 and I'm also a stepmum. Like most of my mum friends I'm running around like a headless chicken most of time, running kids to school, appointments, clubs and parties and baby Mabel is a just a few weeks old.
This crazy life
People keep telling me I'm managing so well, asking me 'how do I do it?' Let me tell you a secret…I'm winging it! Every single day. But some days I see the plans are coming together, whether it's helping my son with complicated homework or building a new website, I'm winging it in the right direction, most of the time. If you'd like to follow that chaotic journey then read on!
So inbetween clearing up puke (hopefully that's just today and not everyday or I may run off and join the circus) and feeding baby Mabel (that's a whole other blog right there), I'm not going to be in the workshop for a while. Ironically this means I can do some stuff I've wanted to do for ages, like writing jewellery blogs! I'm making new plans and forging new relationships with other fabulous peeps in the jewellery world, it's time to look anew and bring in some exciting changes. Pink Butterfly is evolving.
Jewellery waffle and bonus banter
So watch out for more waffle about what's on the bench, what's in my busy, slightly-addled-with-sleep-deprivation brain. Mostly I'll witter on about jewellery, sometimes about other stuff if you don't mind, mostly reasonable, occasionally downright loud and shouty. but that's really who I am, and Pink Butterfly is also a big part of who I am, so if you like people and businesses who are loud and proud about their passions and their lives then welcome to my world.