Personalised jewellery is a winner of a gift –– it's thoughtful, beautiful and unique.
Choosing personalised jewellery always feels special — no matter how expensive or inexpensive it is. After all, it's one-of-a-kind. What's more, personalised jewellery is thoughtful because it's created just for you — or for you to give to someone who really matters. But what should you say on personalised jewellery? There are a few different routes to take when commissioning your handmade items. Below are some of my suggestions.
Initial Jewellery
Placing initials on a piece of jewellery is a simple, understated form of personalisation.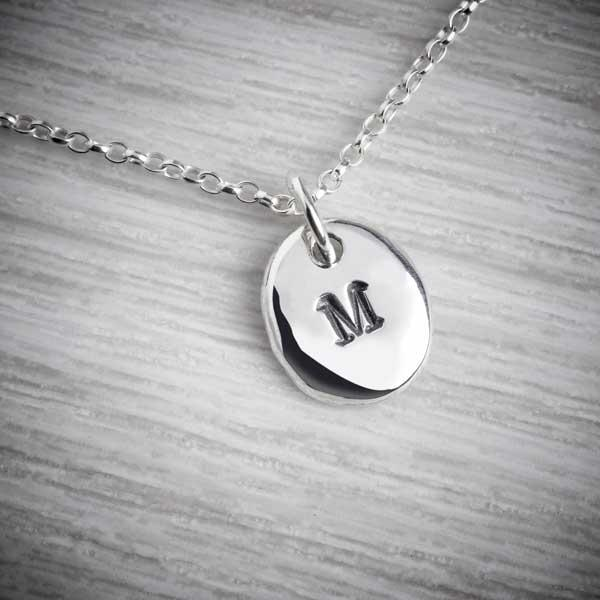 Shop the Silver Personalised Initial Pebble By Emma White
A single initial or a combination of initials will likely never go out of style and is beautifully easy to wear at any age. For this reason, initial jewellery is a great gift to give someone who has a classic, luxury style. Since initials have a subtle sentimentality, this type of personalised jewellery also works well as a professional gift.
Quote Jewellery
Including a quote on a piece of jewellery takes personalisation to another level. A quote can be related to the act of gift-giving itself. For example, a motivational quote is perfect for a celebration of success, to celebrate an anniversary, a special birthday, or an occasion to be remembered. An uplifting quote on a piece of jewellery is the ultimate thoughtful and supportive gift. A song lyric or a favourite poem can symbolise the feeling between two people who share a history, a friendship or a great love.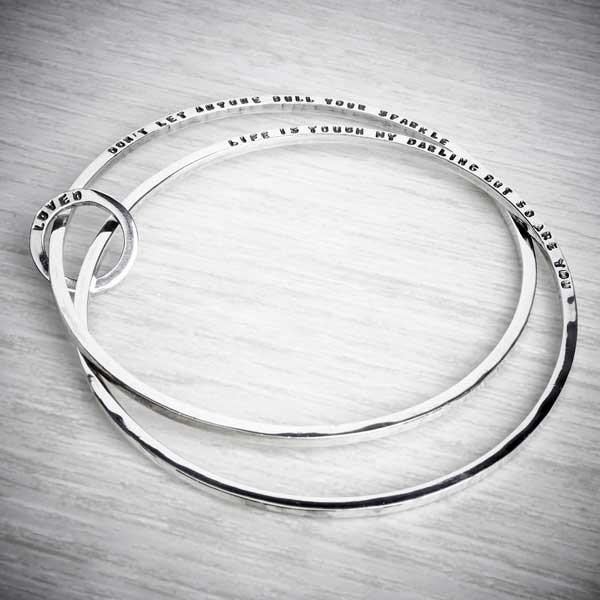 Shop the Silver Personalised Double Bangle By Emma White
The length of quotes means this type of personalised jewellery can be a wonderful gift full of thought and feeling — a gift from the heart.
Symbol Jewellery
Images can speak louder than words. So, if you're stuck in terms of what to say on personalised jewellery, use a symbol to say it instead. Symbols are compact, cool and quirky, allowing you to share a secret meaning, simply and with style. Some popular symbols are:
Love heart
Stars
Flowers
Longitude and latitude coordinates.
With symbol jewellery, the message is subtle. So, it makes a natural gift or can be the sort of personalised jewellery you can treat yourself to — and wear again and again.
Word Jewellery
Sometimes one word is enough if you want to convey a simple, clear thought. Single-word pieces make perfect pendants and charms, where your message can be small yet significant.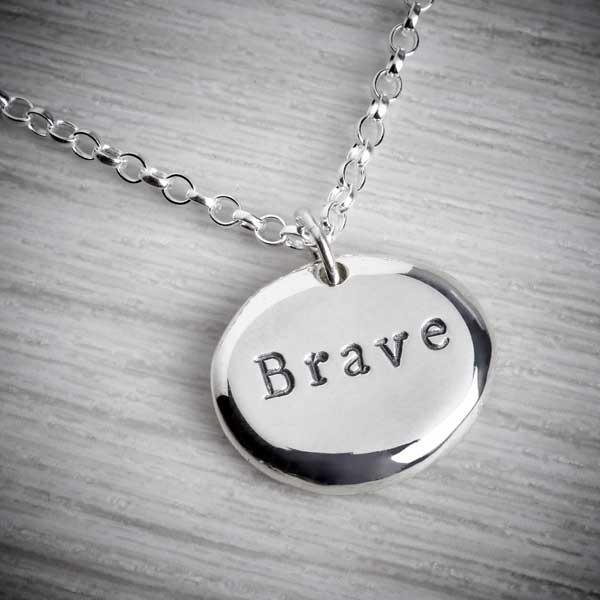 Shop the Silver 'Brave' Pebble by Emma White
Popular words are personal mantras or words of respect and admiration. In recent times, we have all needed some strength, some hope — something to keep us going when times are tough. Our most popular words include "Faith", "Kind", "Hope" and "Love" — and the most popular phrase is "You Got This." These are popular gifts from women to women — supporting each other in the wonderful way that women do, expressing that support and raising each other with gifts of hand-stamped mantra jewellery.
Final Thoughts
As an artisan jewellery maker, I think every piece of jewellery should be rich in thought and handmade with the greatest attention to detail, to create a perfect piece of personalised jewellery.
So, what advice can I give you when ordering a piece of personalised jewellery? Ask yourself questions such as:
Who is the jewellery for and what does that person mean to me?
What words resonate with them?
What words symbolise our connection?
What works with the design of the piece?
Jewellery can also be a gift to yourself with no excuse needed!