How much do you know about who you are buying your jewellery from?
Who makes your jewellery? Where do they buy their materials from? Their packaging? How much do you know about the origins of the products that you buy? How much a part of the purchase decision is it? Well I guess the fact that you are reading this blog says that you care! We care too!
When you are buying a piece of jewellery you might have questions that you want to ask and we are very happy to answer them for you. As a collective of small businesses we know the story behind everything we make and all of the products and processes that we engage with , if you have a question for us please ask here.
This year we are pleased to be taking part in the Fashion Revolution, and as part of this wonderful movement I would like to introduce you to our team and tell you a bit more about THE JEWELLERY MAKERS. Each of us works in our studios, which are dotted all over the UK, England, Ireland, Scotland and Wales!
| | | |
| --- | --- | --- |
| This is Helen Shere, she makes your jewellery! See her collection HERE. | This is Evie Milo, she makes your jewellery! See her collection HERE. | This is ME, Emma White, I make your jewellery! See my collection HERE. |
| | | |
| | | |
| | | |
My name is Emma, I head up the collective and I'm responsible not only for my own jewellery designs and collections but I also am chief photographer, website updater, social media waffler, blogger, recruiter, cheerleader and all round admin bod. There are another 14 Jewellery Makers in our collective, each working in their own Independent jewellery businesses, designing their own beautiful designs and working in their own specialisms and styles, ruining their hands whilst making all of your orders up and getting them posted out to you within a few days and loving every minute of it. Together we are The Jewellery Makers.
What is the Fashion Revolution?
Fashion Revolution was founded in the wake of the Rana Plaza disaster in 2013, when a huge factory in Bangladesh collapsed killing 1,134 people, mainly women, and injuring around 2,500 more. The building had been declared unsafe just the day before but the workers were told to return the work the following day and the building collapsed mid morning. The factory housed there was making cheap imported clothes, mainly for the western fashion industry. This sparked a huge debate around the ethical production of the fashion that we wear and the Fashion Revolution movement was born.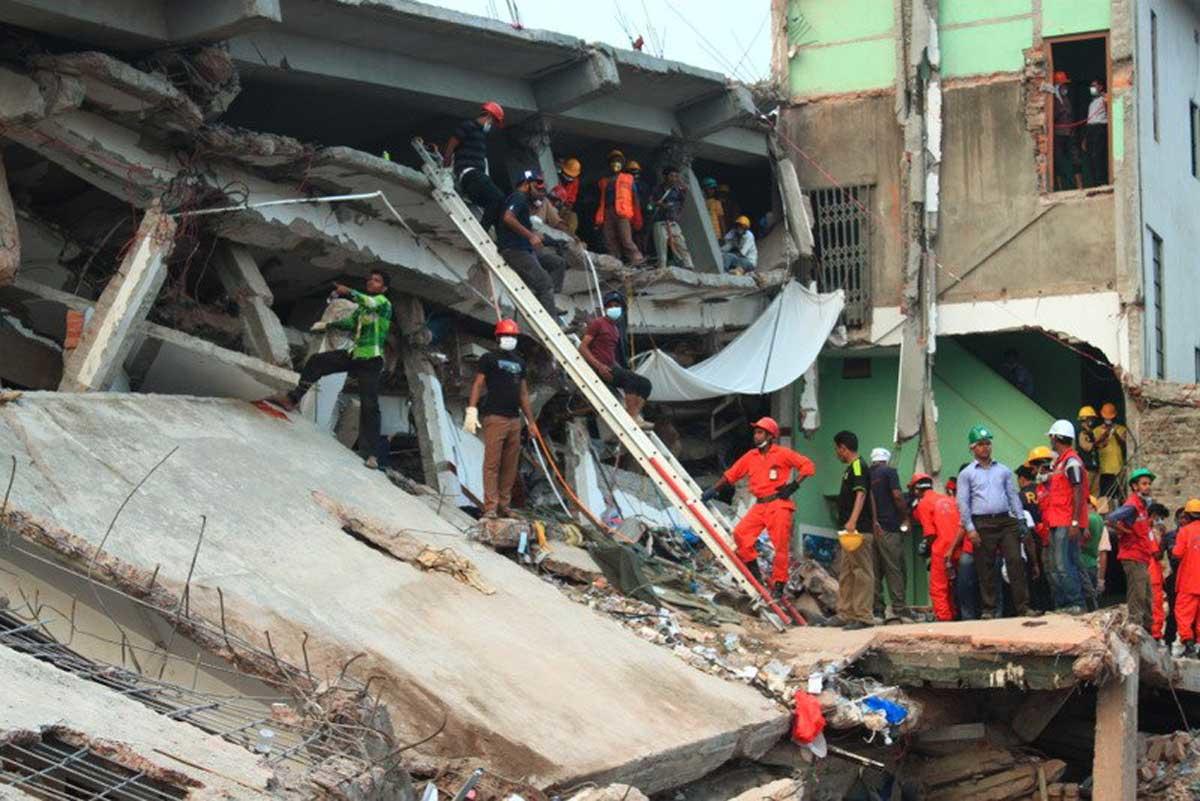 From www.fashionrevolution.org
"Fashion Revolution has become the world's largest fashion activism movement, mobilising citizens, industry and policymakers through our research, education and advocacy work.We are a global movement of people who make the fashion industry work. We are the people who wear clothes. And we are the people who make them.We are designers, academics, writers, business leaders, policymakers, brands, retailers, marketers, producers, makers, workers and fashion lovers. We are the industry and we are the public. We are world citizens. We are Fashion Revolution.
As part of raising awareness bloggers, makers and brands are being encouraged to respond to the anniversary of this disaster with the hashtag #imadeyourclothes and #imadeyourjewellery to demonstrate transparency in their supply chain and to add their voices to the campaign for safer working environments for all.
There are many ways to get involved, visit https://www.fashionrevolution.org to find out more but one way is to ask brands #whomademyclothes and #whomademyjewellery and vote with your feet if you don't get the answers that you are looking for, it's up to you, it's your choice!