Classes - learn to be a Jewellery Maker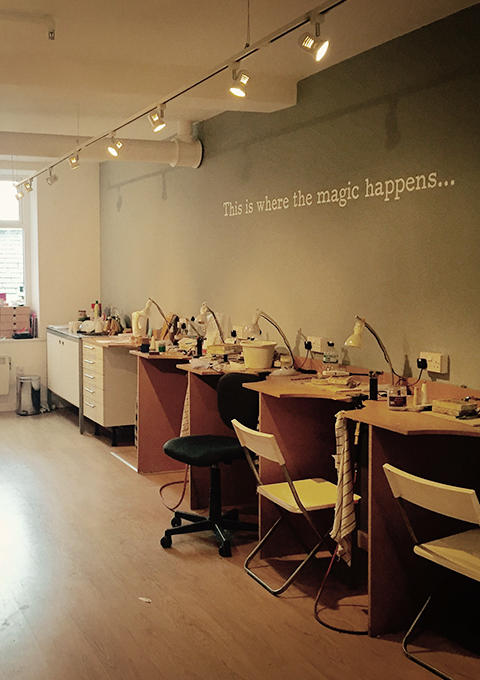 Chrysalis School of Jewellery
Jewellery Courses
Would you like to learn a new skill and meet new people?
Learn traditional jewellery making techniques and produce your own designs in metal in a brand new workshop with our experienced jewellery tutor, in Farsley, West Leeds.
New workshop facilities
Small friendly groups
Quality teaching in a safe and relaxed environment
Learn both design skills and technical skills
2 ½ hour classes
Classes for all abilities
One to one teaching also available
Daytime Courses
We are planning a Friday morning session which will run from 9.30am-12pm, classes can be booked as one off sessions at a price of £15/session, or 6 for £80
Tuesday
9.30am - 12.00pm
£15/session plus materials
6 sessions for £80 plus materials
Evening classes
We have a Tuesday night class starting again in September. This class runs for 6 weeks blocks. It's a really popular course with a waiting list but classes do come up so please contact us to join the mailing list if you are interested.
Tuesday
6.30-9.00pm
£100/term plus materials
Please call or email us for more information or to book.
One to one teaching
Have our undivided attention and work in our workshop with a tutor all to yourself, or bring a friend or two and share the expertise. Ideal if you have a specific project in mind or if you struggle to commit to a regular time. £30/hour, for a minimum of 3 hours at a time.
'Make a Bangle' Saturday Workshops
Spend a Saturday in the workshop and make a textured bangle, or a slim stack of bangles. Suitable for beginners or if you are 'rusty' and would like to recap your jewellery skills. Come and have fun with our hammers and create interesting textures and finishes on silver, with a yummy lunch included!
Our next dates will be in October. Join our mailing list to be kept up to date.
10am-3pm
Simple lunch (soup and a sandwich) included
Tea and coffee included
Materials included (enough to make 1 bangle or 3 slim bangles)
£65/day
We have lots of plans for more workshops so please keep popping back to stay up to date or follow us on instagram or Facebook
https://www.instagram.com/pinkbutterflyjewellery/
https://www.facebook.com/thejewellerymakers/