Melanie Hamlet - Jewellery Maker
Melanie Hamlet - Jewellery Maker
Introducing Melanie Hamlet - Jewellery Maker.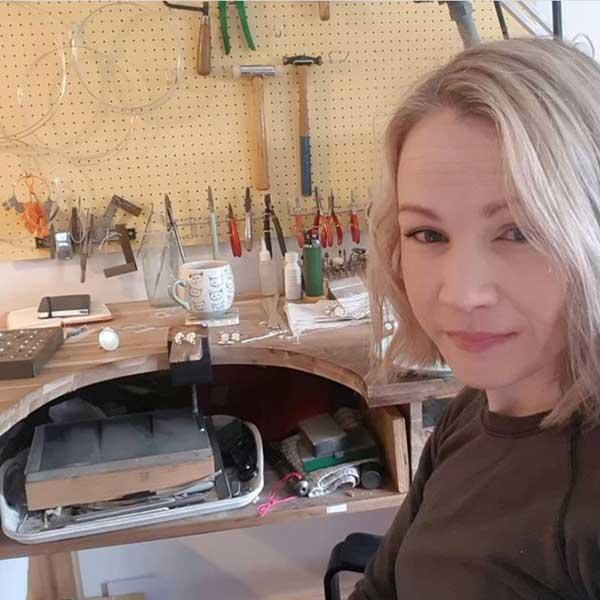 Hello! I'm Melanie, and I am a jewellery designer and maker. Born in Leicester to a family of busy fingered people I was always a maker of 'things'. After taking an Art Foundation Course in Loughborough I discovered I particularly liked to work in small scale, so it seemed natural to them go on the School of Jewellery in Birmingham, where I gained a BA in Jewellery and Silversmithing in the heart of the Jewellery Quarter. I then decided to travel and spent a couple of years in Greece - hence the company name which means 'red' in Greek.
Returning to England in 2003, it felt like it was time to get back to my dream, I set up my workshop, founded Kokkino, and I have never looked back! Over the years I have worked to develop my own trademark style, utilising beautiful rich metal colours and textures, from the rich luxuriousness of silver blending to gold, to the bright pop of enamels and formica.
I strive to create beautiful timeless pieces with a modern twist, using considered design and exquisite craftsmanship. I'm lucky enough to have exhibited in many prestigious exhibitions in the UK and abroad, including Goldsmiths' Fair and most recently at the Museum of Art and Design in New York. I am delighted to be involved with The Jewellery Makers and excited to sell online in this way.
It would be impossible to work without copious cups of tea, the occasional Tunnocks wafer and the radio or a box-set for company!