Classes - learn to be a Jewellery Maker
Would you like to learn a wonderful new skill?
Learn traditional jewellery making techniques and produce your own designs in metal in a lovely, well equipped workshop with our experienced jewellery tutor, in Farsley, West Leeds.
Great workshop facilities
Small friendly groups
Quality teaching in a safe and relaxed environment
Learn both design skills and technical skills
Classes for all abilities
One to one teaching also available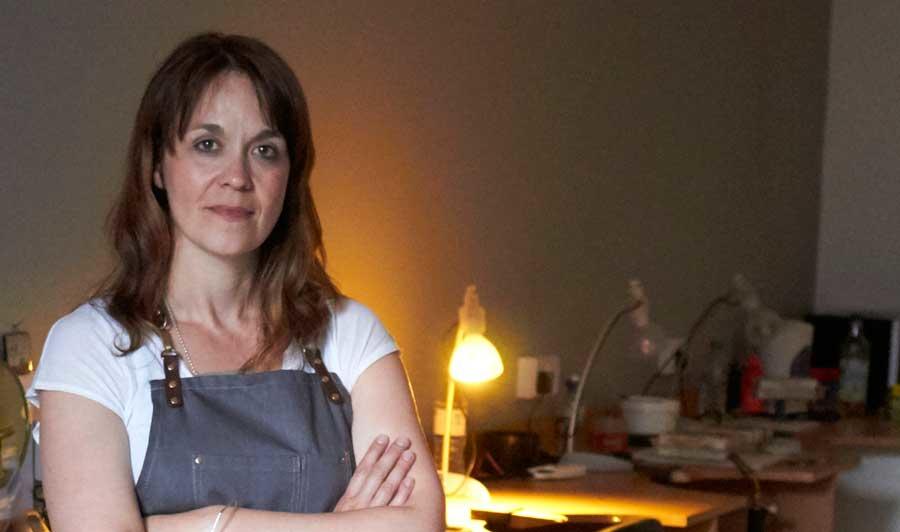 Daytime Courses
We host a Friday morning session from 10.30am-12.30pm, classes can be booked as one off sessions at a price of £20/session, or a 6 week term on set dates for £100. Our next session dates/term dates are: 6th 13th 27th September, 11th 18th 25th October.
Fridays
10.30am - 12.30pm
£20/session plus materials
6 session term for £100 plus materials



Evening classes
We have a Tuesday night class. This class runs for 6 weeks blocks. It's a really popular course with a waiting list but places do come up so please contact us to join the waiting list if you are interested. Our next course dates are 10th 17th 24th September, 8th 15th 22nd October.
Tuesdays
6.30-9.00pm
£110/term plus materials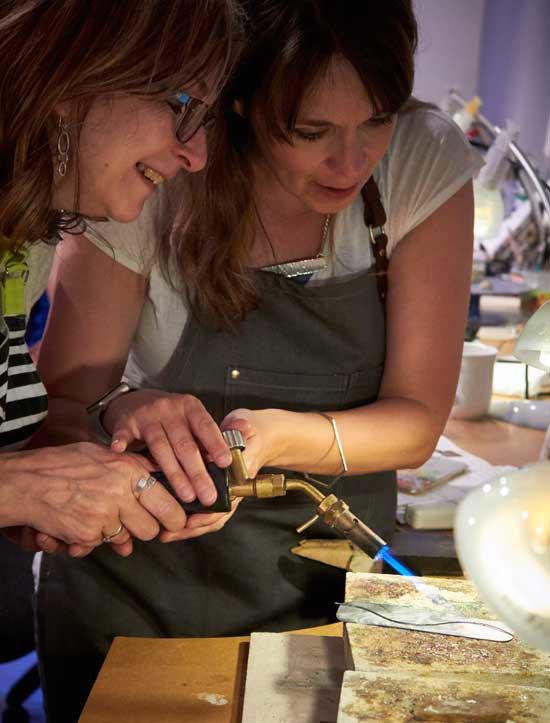 One to one teaching
Have our undivided attention and work in our workshop with a tutor all to yourself, or bring a friend or two and share the expertise. Ideal if you have a specific project in mind or if you struggle to commit to a regular time. £40/hour, for 1 person, £50/hour for two or £60/hour for three. We recommend a minimum of 2 hours.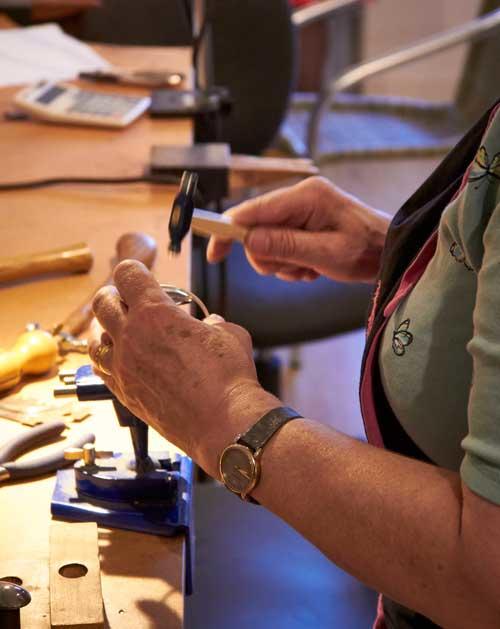 Friday Freedom Sessions
This is for students who have already completed one of our jewellery classes and can work safely and independently with minimal supervision. Choose from a morning or afternoon session, or come for both! This is not a taught session but places are limited so please get in touch to book in advance to check there is space for you. Feel free to bring your own materials or they are available to buy from my stock of silver and copper.
Fridays
10.30am - 12.30pm
12.30pm-2.30pm
£10/session (not including materials)
'Make a Bangle' Saturday Workshops
Spend a Saturday in the workshop and make a textured bangle, or a slim stack of bangles. Suitable for beginners or if you are 'rusty' and would like to recap your jewellery skills. Come and have fun with our hammers and create interesting textures and finishes on silver, with a yummy lunch included!
Join our mailing list to be kept up to date, or follow us on social media.
10am-3pm
Simple lunch (soup and a sandwich) included
Tea and coffee included
Materials included (enough to make 1 bangle or 3 slim bangles)
£65/day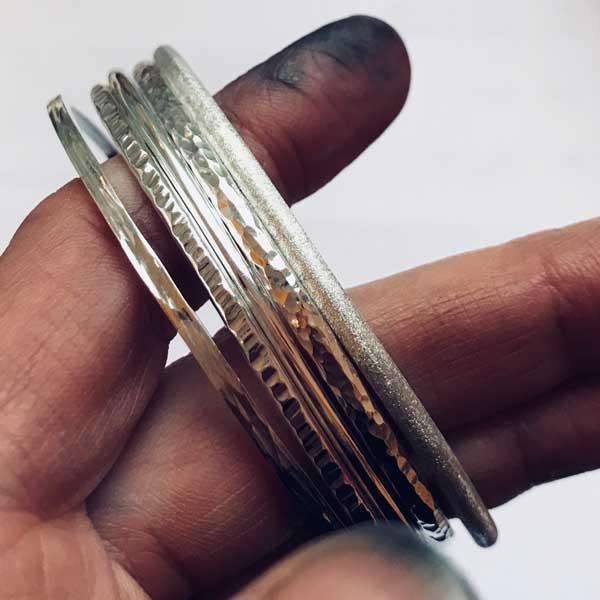 'Make an initial pendant' Saturday workshops
Work with silver to make a silver pendant, stamped with an initial and textured to add some interest. Working from my beautiful jewellery studio in Sunny Bank Mills, make your necklace by hand from scratch. Explore texturing and finishing to create different effects and go away with something beautiful that you'll cherish forever! You can make more than one drop for an additional cost.
Alternatively you can purchase a workshop day as a gift for someone else, it's a great gift for someone who enjoys working with their hands, and doesn't mind getting them dirty! The day is suitable for complete beginners or as a refresher.
The details
Join our mailing list to be kept up to date, or follow us on social media.
10am - 1pm
Materials included (to make one pendant on a silver chain)
£45
Tea and coffee and lots of biscuits included!
If you'd like to make more pendants you can do this for an additional charge, please get in touch to discuss what you'd like to make and we can advise you on the best way forward.



How to find us...
We are based in Red Lane Mill, which is part of Sunny Bank Mills in Farsley, West Leeds.
You can find our address below, but please be aware using the postcode will take you to the main yard of the Mill complex and we are located in another part of the Mill. Please use our directions once you are in Farsley.
Please turn into Water Lane, off Town Street, (there is a large pub on the corner painted cream and pale green, called '33').
Water Lane turns into Red Lane as you drive up it, past the big flats on the right you will see large black gates, signposted 'Sunny Bank Mills', this is our car park! There is usually ample visitor spaces but if it is full, you can park on the road just beyond the black gates instead. If it is after 5pm you can park in any space in the car park.
Walk along the cobbles towards the inner yard and we are through the cream door in unit 3.
*Please note: we are not a retail unit but a workshop premises and teaching space. We do not have our jewellery on display or hold any stock. We welcome visitors on an appointment basis only. Thank you for understanding*
The Jewellery Makers, Unit 3, Red Lane Mill, Sunny Bank Mills, Farsley, LS28 5UJ
PLEASE EMAIL TO BOOK
We have lots of plans for more workshops so please keep popping back to stay up to date or follow us on instagram or Facebook
https://www.instagram.com/the.jewellery.makers
https://www.facebook.com/thejewellerymakers
To talk to us in person about classes and courses email at emma@thejewellerymakers.co.uk or call 07881 510303